You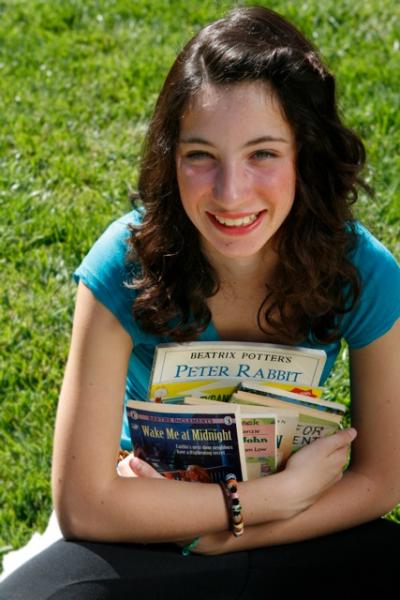 When Tatiana Grossman, a 15 year old from Palo Alto, California, learned that as many as three out of four children in sub-Saharan nations never learn to read, she got straight to work.
In the following three years she influenced African government literacy policy, helped establish libraries serving 78 schools and villages in three African nations, became a role model for thousands of sub-Saharan African children who want to read, and spoke with thousands of children and adults in the US and Africa, including dignitaries, educators and students from five nations at the Botswana Ministry of Education's inaugural International Literacy and Learning Conference.
This month Tatiana learned that she is the first American child to be named a finalist for the prestigious International Children's Peace Prize. Nobel Peace Prize Laureate Rigoberta Menchu Tum will bestow the Children's Peace Prize upon one of the four finalists whose remarkable efforts have most improved the lives of vulnerable children around the world.
The International Children's Peace Prize, an initiative started by the Nobel Peace Prize Laureates Committee and the Dutch charity organization KidsRights, honours exceptional children between the ages of 12 and 18 who devote themselves to children's rights and make a difference in the lives of vulnerable children
"Tatiana is kind beyond her years, with passion, vision, integrity, intelligence and respect," said Olga Tsimanyane, Principal Officer in Botswana's Ministry of Education who invited Tatiana to be one of the conference's keynote speakers. "Before Tatiana arrived in Botswana, we were a developing country. Because of the motivation for reading Tatiana instilled in so many Batswana children when she visited, our government committed to building new libraries in primary schools. Books have changed my country tremendously."
To accelerate her efforts, Tatiana started Spread the Words, a project to inspire other children to create libraries, offering suggestions on how to stay connected with and support the libraries they've created. Spread the Words also has taken on a challenge that has daunted many adults - finding a cost-effective way to deliver digital textbooks to third world classrooms that lack computers and, often, reliable electricity. Solving this digital challenge will get much-needed teaching materials to those classrooms quickly, avoiding the substantial cost associated with collecting and shipping traditional, often heavy, textbooks overseas.
"Just being nominated is such a surprise and honour," Grossman said. "I hope that others who learn about my work will collect books and support literacy as I have. Books are so important to the children and communities that receive them. They change lives, generation after generation."
Nobel Peace Prize Laureate Archbishop Desmond Tutu, one of the early International Children's Peace Prize presenters, praises the Peace Prize and its selection committee, which includes United Nations representatives, for giving passionate children an international platform and a "voice to the utterly voiceless."
Prior International Children's Peace Prize child finalists have done impressive and important work, from helping save children from slavery and HIV/AIDS isolation to staging protests in war-torn countries where even the meekest are subject to violent retribution. Now, with Tatiana's nomination, an honouree will have provided essential learning tools impoverished countries need to rise out of poverty. Chris Bradshaw, the founder and president of the African Library Project, nominated Tatiana for the prize. Tatiana has been working very closely with the African Library Project, which helps Americans start libraries with African partners.
This year's International Children's Peace Prize winner will garner a €100,000 ($140,000 US) donation from the KidsRights Foundation to projects closely connected to her/his area of work.
Related Links:
Spread the Words
Children's Peace Prize
KidsRights Foundation