Yang Lan (Businesswoman/Talk Show Host)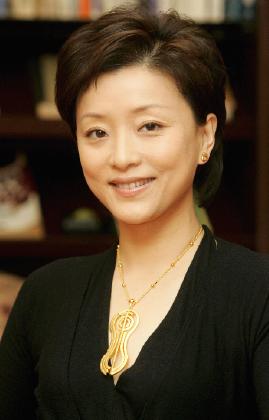 Yang Lan (born March 31, 1968) is a Chinese businesswoman, talk show hostess, and co-owner with her husband Wu Zheng of Sun Television Cybernetworks in Shanghai, China.
Yang Lan was born in Beijing to a father who was an English professor at Beijing Foreign Studies University and a mother who was an engineer. After she married Hong Kong entrepreneur Wu Zheng, she became co-owner with him of a new media company, Sun Television Cybernetworks.
She also became one of China's richest business people, according to Forbes Magazine. Before her marriage, however, Ms. Yang was one of China's most well-known television hostesses.
Yang Lan is a media baroness, corporate entrepreneur and a leading television host in China. She and her husband Bruno Wu co-founded Sun Media Investment Holdings Ltd, one of China's most prominent private media groups. The business spans television production, newspapers and magazines, as well as on-line publishing.
Yang holds a Masters Degree (MIA) from Columbia University's School of International and Public Affairs (SIPA), where she is now a member of the Columbia University International Advisory Council (IAC). , after having attended the Beijing Foreign Studies University during her undergraduate career.
In 2005, she founded The Sun Culture Foundation with a mission to promote the advancement of education, and the building of philanthropic culture.
The Paley's Center of Media (Museum of Television and Radio) has honored her with "She-Made-It" award in 2007 to recognize her achievement as a TV journalist.
As a signature TV talk show, Yang Lan One on One focuses on getting to know leading figures from the fields of international politics, business, society and culture. In this program, Yang Lan profiles the guests' life stories, career experiences, and personal insights. With it's eight-year history, it is one of the most highly regarded and well known in-depth talk shows in China.
The talk show's host, Yang Lan, guided by her personal style and unique viewpoint, has over the years presented interviews with over four hundred movers and shakers from around the globe. Her guests include Bill Clinton, Henry Kissinger, Jack Welch, Andrew L. Webber, Tan Dun, Nicole Kidman, Jackie Chan, Kobe Bryant, Hugh Jackman and Michael Phelps.<
Related Articles