Women Priests & Pedophilia On Par Says Pope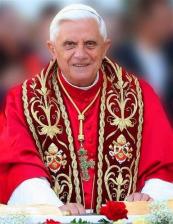 Making a woman a priest is as sinful as abusing a child, the Roman Catholic Church declared yesterday.
New religious rules published by the Vatican set both sins at the same level of gravity and recommended the same punishment for guilty priests.
Church officials in Rome insisted that the new version of Canon Law showed it was 'very, very serious in its commitment to promote safe environments'
But it had the appearance of an own goal by Pope Benedict XVI in his attempt to cool the scandal over Catholic cover-ups of child abuse by paedophile priests.
Victims' groups protested that criminal offences against children should be given far greater weight than doctrinal arguments over whether women can be ordained.
The Vatican move also appeared badly-timed as it followed the debate in the Church of England over appointing women bishops that won worldwide publicity at the weekend.
The new rules mean that priests can be defrocked or excommunicated for paedophile offences, sexual abuse of mentally handicapped adults or attempting to ordain women.
Acquiring, possessing or distributing child pornography will be regarded as an offence on the same level as physical abuse of children.
Erring priests will be punished by the Congregation of the Doctrine of the Faith, the Vatican department once known as the Inquisition.
In the past a complex system of church tribunals would take months or even years to deal with a paedophile priest. However, from today priests will be dealt with summarily by church leaders.
Doctrinal official Monsignor Charles Scicluna said: 'This gives a signal that we are very, very serious in our commitment to promote safe environments and to offer an adequate response to abuse.'
But including the ordination of women in the same category of religious crime suggested that the Vatican may still have underestimated the impact of recent abuse scandals.