Women On Ground In Egypt Ask For Global Support For Peaceful Resolution
Susan notes: the world reacts in horror to the events unfolding in Egypt. Here's one letter I got from the Global Fund for Women this morning February 3, 2011: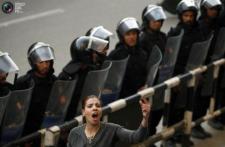 Dear Supporter,
As many of you watch the incredible revolution unfold in Egypt
(Al Jazeera livestream here)
, we wanted to update you on what we are hearing from our board members, advisors and grantees on the ground in Tahrir (Liberation) Square in Cairo.
The peaceful demonstrations that drew some two million anti-Mubarak protestors to Tahrir Square and inspired the world is now a terrifying scene of violence. With the Internet back up, our board member, Professor Hoda Elsadda, Chair of the Study of Contemporary Arab World at the University of Manchester, sent us an urgent email this morning:
This morning, regime thugs, policemen in plain clothes managed to gather a crowd and attack peaceful protesters in Tahrir square. Many entered the square on horseback, on camels, carrying swords and other weapons. I had decided not to go today because I was not feeling well from inhaling too much tear gas the day before and because the internet returned.

My daughter and my nieces have just come back unharmed, thank god, but other protesters have not been so lucky. We need to repeat and say that this crime is undoubtedly the work of the same police force that disappeared from the face of the earth for forty eight hours after the Friday demonstrations, to spread disorder and terrorize everybody. I am writing quickly to say that this is the time to mobilize international support for protesters in Egypt.

We are also hearing that the army has done nothing to protect the people, and in some reported instances, have contributed to the beating. The media is distorting the news, alleging that the violent perpetrators that are clashing with peaceful demonstrators are pro-regime supporters, when in fact everyone on the ground knows that these are hired thugs deployed by the Mubarak regime.
The Global Fund for Women stands in solidarity with the brave women and men who are risking their lives to create a new country, one that respects human rights, justice and equality for all. Read our statement, which also includes several ways that we can support the Egyptian peoples' calls for democracy.
If you are a resident of the United States, please call the White House and urge President Obama to make an unequivocal demand to Mubarak to leave and disband his hired thugs before further violence escalates. Let's flood their phone and fax lines. Phone: 202-456-1111, Switchboard: 202-456-1414, FAX: 202-456-2461.
Related links:
13 Amazing Images Of Egyptian Women In Protests
Links to More About Egyptian Women on AWR
Al Jazeera livestream