Wife-Slapping Not OK in Islam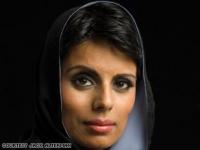 CNN.com just published a comprehensive commentary by Dr. Qanta Ahmed in response to the recent wife-slapping issue originally reported in Arab News.
Dr. Ahmed is an articulate, accomplished and stunningly beautiful Muslim woman who, like Queen Rania of Jordan, and Sheikha Lubna of the UAE, is undoubtedly an inspiration to women of all races, religions and nationalities around the world.
Here are excerpts of her eloquently written piece (link to the full article is at the end of the post):
There is no basis in Islamic theology to support domestic abuse of any kind and specifically none pertaining to the matter of a wife's spending pattern.

The stark abasement of Islam that such a puritanical, backward-thinking judge would exact by issuing ridiculous decisions invites special scorn from the royal camp.

While the focus of the West remains on the pervasive abbaya in the kingdom or the longstanding restriction on women driving cars in the nation's cities, uninformed outsiders fail to realize that many, many women operate unhindered by these "restrictions."

In my time working in Saudi Arabia as an intensive care specialist, I came to learn that for most Saudi women, the abbaya is not a tool of oppression but rather one of liberation.

Let us also not forget 40 percent of the wealth in Saudi Arabia is owned and controlled by women, and these women are frequently business owners and oftentimes themselves employers.

Women are encouraged by Islam to maintain independent assets, assets over which men have no right or recourse even within the sanctity of marriage.

For experienced kingdom watchers, it is exciting to see the outcry against the violation of human rights come from inside the kingdom, not merely from without.

Women and progressive Saudi men who support them are not silenced. In fact, as observant Muslims, they are enjoined by Islam to expose any injustice, even and, in fact, especially when the infraction is committed by Muslims themselves.

This act of stupidity unfairly depicts the kingdom as draconian at a time when the tides of progressive reform are now waist-deep and rising. Such narrow perspectives only serve to fuel global Islamophobia that has greatly increased in the West post-9/11.

Muslims around the world and within the kingdom can no longer tolerate this stance, and the king, the Custodian of the Two Holy Sites of Islam, isn't likely to, either.
Read the full article here on CNN.com
Related links:
Dr. Qanta Ahmed
AWR Profile