Who In The World Is Natalie McIntyre?
Natalie McIntyre (aka Macy Gray) is touted by many to have soared to musical stardom at the end of the 1990s. And in some ways she definitely did.

However, I recently read an account of her story in Fitting in Is Overrated, a wonderful book by Leonard Felder (a psychologist, counselor, author and occasional contributor to my favourite publication Ode Magazine), in which her seemingly meteoric rise to celebrity is cast quite differently.

Felder's gives a more human, and I think more interesting account of Natalie McIntyre's youth than other articles I've read, and describes how she stumbled in fits and starts into a career as a successful singer songwriter.

Here's a short version of Macy Gray's story, based on bits and pieces taken from a section in Felder's book, as well as others found at the links below:

Who me? Sing?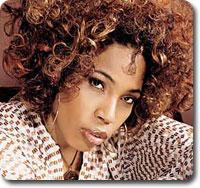 Natalie McIntyre was born in Canton, Ohio on September 6, 1967, to Laura McIntyre, a math teacher, and Otis Jones. Laura later remarried to Richard McIntyre, and he adopted Natalie.
Natalie was an extremely private child, who was sometimes characterized as shy, and often teased in school for her unusually high and raspy voice.
"I had this real funny little voice," she admits, "and every time I would speak, the kids would make fun of me. So I stopped talking. Everybody thought I was shy, but really I was self-conscious of my voice. It never occurred to me that I could sing."
She was somewhat of an outsider, even in her own family.
"She was always writing short stories or playing solitaire, and spending time in her room alone listening to music. She lived in her own private world," her siblings are reported by Felder to have said.
In addition to being a "loner," Natalie was also gifted academically, and she won a place in a mostly-white boarding school, from which she ended up being expelled unjustifiably (according to her).
"Well, I wasn't that good a student," she says. "I would cut class a lot, but I was real smart so I could always pass. I used to be in detention all the time, and one day I was sitting there with my dean just talking and joking around, and he put his hand on my leg, like trying to feel me up."
"I told on him, and then a couple months later I was told that my grades weren't good enough. My grades were fine, but that's the excuse they gave me."
Accidentally Amazing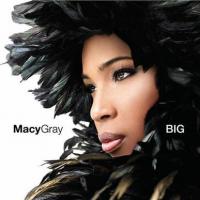 Soon after she finished high school, Natalie decided to leave Ohio. She won a scholarship to the United States Naval Academy, but chose to go the University of Southern California instead, where she studied screenwriting.
At the same time, she started to sing in underground nightclubs, and adopted the stage name Macy Gray, the name of a family friend who had encouraged her uniqueness.
"It was kind of accidental in the way that I started singing," she says. I just met this guy who asked me to be in his band."
She began to have a following, and along with a few friends opened an after-hours music club, called We Ours, in a Hollywood coffee shop.
During the early 1990s she started sending out demo tapes, but after three years of nothing but rejections she became frustrated. Finally, in 1994, Atlantic records signed her and things began to look up. She married Tracy Hinds, the father of her two children, who were five and six at the time.
Things didn't work out with Atlantic and a few months later, when Natalie was pregnant with her third child, she and Hinds separated. They later divorced.
According to Felder, "The pain of being out of work, alone with three kids and still very shy and private was starting to take its toll on Natalie. Unable to stay afloat in the Los Angeles music scene, she moved back to live in her parents home in Canton, She soon decided to stop pursuing her dream and enroll in classes to get a teaching certificate."
The Rest is History
Almost three year later in 1997, an independent music producer heard a never-released tape of Macy Gray's songs, and he tracked her down in Ohio. It took him months to convince her to take another ride on the music industry roller coaster. The rest, as they say is history.
In 1999, she cut her debut album On How Life Is; in 2000 she won the MTV Video Music Award for Best New Artist; in 2001 she won the Grammy for Best Female Pop Vocalist.
As anyone who has listened to her music knows, Macy Gray is a risk taker and rebel who constantly experiments with her music and her artistic abilities.
She has released several more albums, acted in movies, become politically active, worked for charitable causes, established a music school for children and teens and continuously broken new ground.
Her career hasn't been without controversy. No doubt that has shaped who she is now: an amazing 42-year-old woman who continued to inspire others around the world.
Not bad for a shy little girl with a raspy voice who hardly spoke as a child because the other kids made fun of her.
Related links:
A more music-oriented bio
An interview shortly after her first two Grammy nominations were announced in 2000
The Wikipedia version