Where Have All The Afghan Women Gone?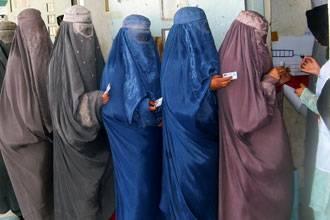 Where women really stand in Afghan society didn't hit home to me until I walked down a busy market street in Kandahar without seeing a single woman.
The birthplace of the Taliban, Kandahar is conservative even by Afghan standards. It is also the focus of NATO's next big military offensive in Afghanistan, and I spent a couple of days last week embedded with a U.S. military police unit there to report on plans for the offensive and the mood on the ground.
Under a blistering afternoon sun, a group of U.S. and Canadian soldiers and military police led me down a road packed with shops on either side — a bustling market street where you could buy anything from glass plates to spare bicycle parts.
At first, I was taken in by the colourful sights and smells, some of which reminded me of my childhood in India – giant bags of something resembling green and beige pasta shells, sweet shops stacked with glass containers of cookies and pastries, fruits and vegetables laid out on the ground, men sitting on a mat and drinking chai.
It was only after a while that I realized that the curious local faces staring at us were all male, that each and every shopkeeper, assistant and hanger-on (and there were a lot of them) we had seen so far was a man. Could it really be possible that we had walked about 200 metres along a busy market in the city center without seeing a single woman?
A Canadian soldier next to me chuckled when I mentioned it. "That's what my wife asks me as well when I send her pictures. Where are the women? You rarely see them here, and when you do they're completely covered up," he said. The general lack of women also probably explained why the Kandaharis were staring at me like I had just showed up from outer space.
At every shop we stopped at to ask questions, a small crowd of boys and young men would gather around to find out what the fuss was about and after a few minutes of giggling and staring, some would take out cellphones to take pictures
Click here for the full story:
By Deepa Babington for Reuters
Photo Credit:
Reuters
Related links:
More About Afghanistan On AWR