Wall Of Death All In A Day's Work For Some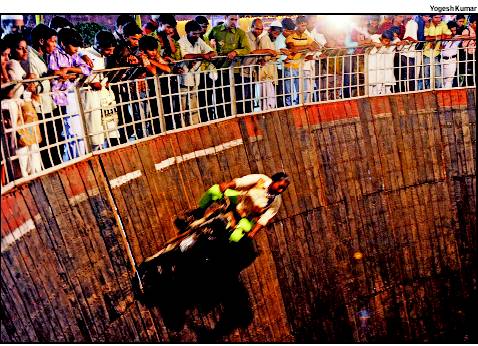 From The Times of India:
Not until she swings a leg across her bike does Salma Pathan, 21, transform into a picture of daring.
As the Maharashtra girl guns the bike hard to defy gravity in her climb to the top of the 'wall of death' (better known as 'well' of death here), she seems a blurry orange ball whirled around with an invisible string.
The audience at the Red Fort grounds feels dazed, but not Pathan, who adroitly plucks out tenners from tentative fingers.
Her present calling is far removed from her early life as a construction worker. The only child and breadwinner of her family, Pathan took to trick-biking when she was 15. "I love riding a bike. My parents are unable to work because of their health, so it falls upon me to earn a living," she said.
She sought out Ustad Tinku, her instructor and owner of the 'wall' called Crazy Lady Riders, because the earnings from her construction job were never enough. "I looked out for a better way of earning a living. I approached Ustad Tinku as I had heard he taught women to perform stunts. Now, I earn Rs 10,000 a month," said Pathan, who wants to perform more difficult stunts.
Back in the 30-feet-deep bowl, as she comes around for the tenth time, Pathan takes both hands off the handlebar to wave at the spectators. But in the 15th round her friend Radha steals the show by shooting up the banked curve and then standing up in her saddle without gripping the handlebar. There's no room for jealousy, though, as the women are busy plucking notes from the crowd that's rapturous and generous in equal parts.
Like Pathan, Radha took up trick-biking to feed her family, but against her family's wishes. A resident of the Capital, she says, "My husband does not favor my job. He thinks it's too risky, and too manly. But I have to sustain a family and this is the only way I can earn money," said Radha.
Photo credit: Yogesh Kumar