Walking Beneath a Weight
Susan notes: excerpted from Walking Beneath a Weight, a column by Pakistani writer and author Bina Shah, which first appeared at Dawn.com in March 2009.

Recently I found a poem (first published in 1963), by the poet and academic Jon Stallworthy, who is professor emeritus of English literature at Oxford University:

Sindhi Woman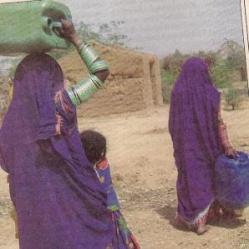 Barefoot through the bazaar,
and with the same undulant grace
as the cloth blown back from her face,
she glides with a stone jar
high on her head
and not a ripple in her tread.
Watching her cross erect
stones, garbage, excrement, and crumbs
of glass in the Karachi slums,
I, with my stoop, reflect
they stand most straight
who learn to walk beneath a weight.

By Jon Stallworthy

I was quite surprised that a New Zealander who is the author of several volumes of poetry and books about poetry and famous poets could produce something relevant to our corner of the world. But the poem is incredibly evocative of the stereotypical image of the Sindhi woman.

This poem brings to mind a series of photographs that I received in my email inbox one day, titled 'Beautiful Pakistan'. These images were striking: in the north were mysterious mountains covered by mist; polo players riding on magnificent ponies in the heights of the Shandur Polo Festival; and other pictures of beautiful beaches, fields rich with growing fruit, grain and flowers.

And in Sindh, lovely thatched huts perched on canal banks, children romping and playing while girls and young women walked along the pathways with containers of water balanced on their heads.

A Sindhi psychiatrist, after seeing these photos, told me, "On the one hand these pictures do depict the beauty of our country, and on the other hand convey the state of our innocent children. The kids while away their precious time roaming around instead of being in school, and the little girls end up caring for their baby siblings and fetching water, and start the rut of life at such an early age."

This is the problem that Sindhi women face today, as they always have. In the words of Jon Stallworthy, "They learn to walk beneath a weight". They carry the weight of illiteracy, of patriarchy, of disempowerment and of voicelessness. It is this weight that Sindhi women must rid themselves of in order to progress beyond the nameless, faceless image of a woman carrying a container of water or a bundle of firewood on her head.

Sadly, when the men of a province are frustrated by poverty, unemployment and the absence of social justice, you cannot expect the women connected to these men to have better lives. How we solve this problem as women concerned for our sisters in Sindh is to do everything we can to ensure that women are educated and empowered, socially and economically.

Sindhi women can also gain independence through financial empowerment. But because women on average are such low earners, it can be difficult for them to avail themselves of credit and loan facilities. Sindhi women need to be given opportunities to take control of their lives through financial independence so that they can build better lives for themselves and their families.

This column is dedicated to the memory of Marya Shah, the young community health worker from Shikarpur who died of an acid attack just last month. Educated and empowered, Marya was an example of what Sindhi women can achieve. We should celebrate her life and the ideals that she embodied in her dedication to her work. All Sindhi women have the potential to impress the world with their courage and their strength of will.

Click here to read the full article
By Bina Shah
Dawn.com

Related links:
www.binahshah.net
Women in Sindh