Viviane Negrotto (Changent/Photographer)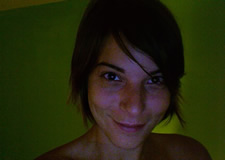 After a cinema studies master at the Tisch School of the Arts, New-York University, and another master of arts at Jussieu-Paris, I bought my first digital camera at B&H never to leave it!
Photographer for one of the main international press agency: "SIPA Press" since 2005, I had pictures published in the most famous French newspapers and newsmagazines such as: Le Monde, Ulysse, Le Figaro, Libération, l'Express, le Nouvel Obs, Le Point.
I also collaborate on a regular basis with advertisement agencies such as TBWA, Lever de Rideau, Connect Factory, Textuel, Novabox... But this was not enough!
That's why I became "a (bio)tiful world" president and getting ready to discover new countries even if I already traveled a lot (through Sweden, Norway, Denmark, Ireland, United-Kingdom, Belgium, Luxemburg, Germany, Austria, Hungary, ex-Yougoslavia, Greece, Spain, Morocco, Burkina Faso, Niger, South Korea, Canada, United States, Cuba, Martinique, Guyane and Hawaii).
My non-green hobby: fly! But when I'm back to France, I only use green detergent, energy efficient lightbulbs, I eat organic fruits and vegetables. I never put make-up on and my unique beauty product is argan oil. Even the walls of my apartment are… green!
My(bio)tiful job: capture the planet through the most (bio)tiful angle!
Fair Tourism//Morocco
And here is the story of my association!:
Me and my girl friends Christine Donatien & Anne-Sophie Michat are willing to cover on our website www.abiotifulworld.com a world tour of green projects. Respectively photographer, production assistant and journalist, we work for major companies like Gaumont, Marianne and Sipa Press. Backpackers to heart, our personal experiences already lead us through Europe, Asia, Africa, America or Hawaïï.
Today, we work together on this project aiming to highlight green initiatives. Through my pictures and Anne-Sophie Michat's articles online, we want to raise awareness about today's challenges around sustainable developement.
Up until today, we already reported on several projects such as :
- Fair trade tourism in Morocco,
- The organic restaurant « Better Burger » in New York,
- The ethical fashion store « Filambule » in Paris.
But we would like to report on so many other topics linked to sustainable developpement…
Compiling this actions and revealing them in an exhibition and through the pages of a quality book, this is the challenge we want to achieve.
This is why we need you.
As a young NGO,'a (BIO)tiful world' was created to support www.abiotifulworld.com website, in order to give a broader scope to the message that we want to convey. We consider that it's time to start living differently and to change our bad habits.
But also to reboot our societies and to lead them towards a sustainable development. By describing innovating and environmentally friendly projects, we wish to sucitate numerous green vocations. Complementary talents gathered toward one goal : raising awareness, this is what « a (BIO)tiful world » is.
Related links:
Viviane Negrotto on Changents