UN Women Launched To Foster Gender Equality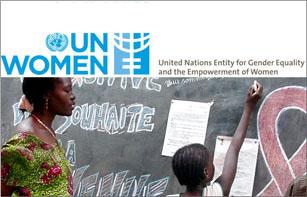 The cause of promoting gender equality and meeting the needs of women and girls has taken an historic step forward.
A new organization—UN Women—was officially launched recently at the UN General Assembly Hall in the presence of leaders from the worlds of politics, entertainment, business and the media.
The new body aims to provide a dynamic and powerful voice at national, regional and global levels for women's rights and equality. It is also tasked with ensuring that the UN system lives up to its own commitments to gender equality, making new opportunities for women and girls central to UN programmes.
The launch event, called Honouring the Past – Envisioning the Future for Women and Girls, was hosted by Michelle Bachelet, UN Women's Executive Director and former President of Chile.
Speakers included UN General Assembly President Joseph Deiss; the President of the UN Women Executive Board and former Foreign Minister of Nigeria, Ambassador Joy Ogwu; Nepalese activist Bandana Rana, and former Commander of the all-female Formed Police Unit in Liberia Rakhi Sahi.
Ms Bachelet told the gathering that the importance of UN Women could not be underestimated as "the neglect of women's rights means the social and economic potential of half the population is underused."
"It is no longer acceptable to live in a world where young girls are taken out of school and forced into early marriage, where women's employment opportunities are limited, and where the threat of gender-based violence is a daily reality—at home, in the street, at school and at work," she said.
"I look forward to working with UN Women which will be a powerful voice for women and girls and help move the AIDS response forward," said UNAIDS Executive Director Michel Sidibé who attended the event. "By teaming up and working on common goals the AIDS movement and the women's movement can dramatically reduce the impact of HIV on women and their families."
Ensuring that women's needs are met is not only beneficial to women themselves but to society as a whole as untapped potential can be unleashed. However, widespread gender inequality persists as women often face discrimination, are sometimes denied access to education and health services and generally have fewer resources than men.
Many women also suffer from violence which can leave them vulnerable to HIV if their ability to make healthy decisions about how to protect themselves against the virus is hampered.
It is hoped that UN Women, with its wide-reaching mandate, will have a dramatic impact on improving the lives of the world's women.
Click here to read the full story:
UN AIDS