UN Says Arab Women Still Struggling For Equality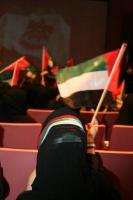 Women continue to struggle to gain equal access to education, the job market and political life in much of the Arab world, according to the UN's latest report on combating poverty.
The yearbook on the Millennium Development Goals (MDGs), released by Ban Ki-moon, the UN secretary general, reveals that global economic slump is undermining attempts to tackle hunger, illiteracy and gender equality.
Researchers highlight the "particularly dismal" progress on women's rights in parts of the Arab world, where women suffer as second-class citizens in politics, education and the workplace.

The so-called Western Asia region, which encompasses Arabia, the Levant, Iraq, Turkey and Cyprus, has a disproportionately low number of girls in schools and what researchers describe as "extremely low" job prospects for women.