UK Children Trafficked For Sex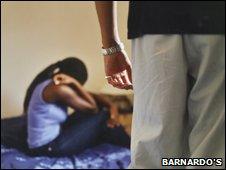 Children as young as 10 are being moved around the UK to be sexually exploited at parties organised by paedophiles, a charity says.
Barnardo's says that thousands of girls and boys are at risk of organised trafficking, and accuses councils of failing the victims.
The organisation says the vast majority of local authorities do not provide expert help for such children.
It urges councils to commission research and to act on the results.
In its report, Whose Child Now?, the charity says that, although there are more than 200 local authorities across the UK, only 40 are known to provide specialist services for the victims of sexual exploitation.
Barnardo's runs just over half of those services. In those 21 areas, it works with more than 1,000 children who were sexually exploited in the past year.
Click here to read the full story:
By Paul Deal
BBC News
Related links:
Anti-Trafficking Crusader Sunitha Krishnan Fights To Save Women & Girls In India
How Much Time For This Kind Of Crime
?