Two Young Women Build Middle East Bridges With Music
Susan notes: this article is about one of my favourite Twitter friends Uzm Atcha (aka @LHjunkie). She's a 21-year-old firecracker, blogger and activist living in the UAE. She writes for Mideast Youth, manages the March 18 Movement campaign, and supremely commands Mideast Tunes, a platform for regional underground musicians and the subject of this article. Find her on Twitter or Facebook; read her recent AWR guest blog post here: Give Me Something To Defend.
(And oh yeah, she's one of da coolest chicas I know!)
A three-piece rock band from Dubai, a punk band whose lyrics deal with Islam and a Palestinian gypsy band who remix Arabic folk songs are just three of the groups on a new website set up by a student in Dubai to use the medium of music for social change.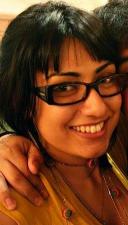 Uzma Atcha, 21 (pictured at left), a Pakistani living in Dubai, and Esra'a Al Shafei, 23, a Bahraini, joined forces to launch Mideast Tunes, a platform for musicians in the region.
"The Middle East is one of the most misunderstood places on the planet," said Miss Atcha. "There have been generations of hatred and animosity between ethnic groups and religious sects so we wanted to try to break those down by using a language everyone can relate to – music."
The site, launched in March, invites artists to subscribe and post their biography, photo and music. Before entries go online, they are vetted by Miss Atcha and Miss al Shafei.
"We don't judge them in terms of our taste, we just want to make sure they are a creditable act," said Miss al Shafei. "Also we tend to prefer underground acts who wouldn't normally get any exposure, as well as those who deal with issues like religion, politics or society in general."
The women said they wanted to recognise musicians who had something to say. "A lot of the music we hear on the radio or on TV is synthesised pop," said Miss Atcha. "It has no meaning. Regional talent gets overshadowed by this."
Mideast Tunes can be played through an online radio portal called Revolt Radio, based in Saudi Arabia, or downloaded with an iPhone "app".
Click here for the full story:
By Anna Seaman
The National
Related Links:
Give Me Something To Defend
(a blog post by Uzma Atcha)
More About Music on AWR