Tradition Robs Child Brides Of Their Youth
Susan notes: the stories of the innocent young girls in this BBC News article are heartbreaking... If this issue captures your attention, see a riveting hour-long US Public Broadcasting Service (PBS) documentary on child brides and violence against girls and women around the world.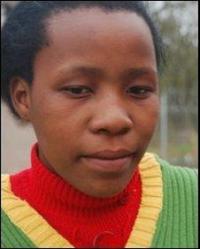 At the age of 14, Nolizwi Sinama set off from her aunt's home to a neighbouring village. She thought she had been sent on a routine chore. In fact, she was on her way to be married to a 42-year-old man.
Her aunt and brother had arranged the marriage, taking three cows as a bride price, or ilobolo as it is known in South Africa.
Three years later, Ms Sinama says the experience left her feeling worthless.
"They stole my innocence and my childhood," she says.
Her husband forced her to sleep with him, and she became pregnant a month after she was abducted.
"I begged them to not to take me. I told them I wanted to continue with my studies that I wasn't ready to be a wife but they wouldn't let me go," she says.
"They told me that I didn't have a say in the matter - one of them said all the arrangements were made with my family's consent."
Ms Sinama says she told her aunt that her husband forced her into having sex, but was told that a failed marriage would disgrace the family.
She finally fled after discovering her husband was HIV positive.
Ms Sinama, like numerous other girls in South Africa's Eastern Cape Province, was a victim of ukuthwalwa - a cultural practice among people from the Xhosa ethnic group to abduct girls for marriage.
Prince Xhanti Sigcawu, a member of the Xhosa royal family, defends the custom.
"Ukuthwalwa like all our other customs was and remains an important part of who we are as people," he says.
"There is nothing wrong with the practice when it is done in the right way - which is when the girl is at the right age and the parents are involved and agree."
But girls as young as 11 years old are being forced into marriage, and calls are growing for the practice to be banned.
Click here to read the full story:
By Pumza Fihlani
BBC News, Lusikisiki
Related links: