Tiny Irish Body Builder Tops The Lot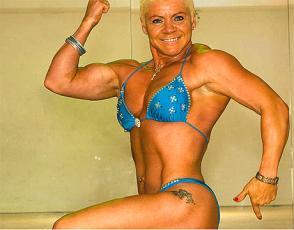 Angela McNamara and her husband Mike Vaughan get through 200 eggs a week. Every two hours, day and night, she has a meal (a choice of porridge, egg whites, fish, chicken or steak and vegetables).

She gets up at 6am and trains for one and a half hours, and she repeats the exercises twice more during the course of the day. The result: a 46in chest, a 30 inch waist -- and muscles that make her Ireland's top woman bodybuilder.

Next month, 37-year-old bodybuilder Angela from Limerick will compete in the Republic of Ireland Bodybuilding Federation's Championships to defend her title as Miss Ireland.

"I only started competing two years ago but already I've done 16 competitions and come first in every single one of them. Bodybuilding is in my blood; my mum was an Irish champion, my dad was a boxer, my sister competes, and back in the 1940s my granddad was a strongman -- for as long as I can remember we would go to gyms after school instead of going straight home," she says.
"I always knew I wanted to compete but I didn't want to start until my daughter, Whitney (18), was grown up. Bodybuilding is a very selfish sport, it takes up a lot of time and family comes first, but when I saw my sister, Sophia, up on stage at an event in September 2008 I knew I wanted to be up there too.

"Every morning I get up at 6am and train for an hour and a half, three times a day. People might think this is crazy, but I eat every two hours, even at night.

"I'll get up and have steak or beef or eggs or chicken, then go back to sleep. I need to have 12 tubs of food prepared for me every day to keep me on a strict, high-protein, low-carb diet.

"My husband, Mike Vaughan, who is also a champion bodybuilder, helps me train. We met at the gym. It would have been impossible for me to date someone not involved in the sport because there are times of the year when you're so involved in it, it takes up all your time and energy -- Mike gets that and can help me.

"I'm only 5ft 2ins and I look really small in clothes, then I take my clothes off and people go 'holy sh**!' Female bodybuilders might look massive in photos but in reality we're really slim and tiny.

"It's a very visual sport and all about getting the definition of the individual muscles, for the muscles to be visible you have to get your body fat down.

"But I always wear dresses when I go out and high heels. There's a stigma attached to the sport, so I always try and keep my look very feminine with pink and bracelets. And when I do the shows I like to have my hair different colours and wear glitter eye make-up.

"I love all the girly stuff; just because I have muscles doesn't mean I'm any different -- my brain is still the same.

"I do get some negative comments, either from men hounding me to arm-wrestle them or women being bitchy but I just put it down to jealousy.

"I manage to work my business hours -- running a driving school -- around my training, but bodybuilding is an expensive sport. I've been very fortunate to have help from Gerry McNamara at the GPC and Shane Brodie from the IPC with free gym use and training tips, and my clothing is sponsored by Australian company, Mortal Clothing.

"There's no money in bodybuilding at amateur level so everything I do is for the pure love of the sport and the desire to win.

"When you take into account food -- we go through 200 eggs a week and seven steaks -- travel, accommodation, supplements, vitamins, tanning products and makeup, pursuing the sport probably costs me about €20,000 a year.

'My dream is to take a European title. It's never been done by an Irishwoman and I'm determined to get there by the time I'm 40. I'd also love to raise the profile of women's bodybuilding. I've won at national and international level but I've had hardly any exposure.

"I can lift three times my body weight, which makes me the strongest person in two federations, but there just doesn't seem to be the same level of interest in Ireland compared to countries like Mexico where bodybuilding is the national sport. I'd like to see that change.

Click here to read the full story:
By Chrissie Russell
The Independent
Photo Credit:
Brian Gavin

Related Links:
Body Building Granny Bench Presses With The Best