This Blog ROCKS! Nuff Said.


AWR today celebrates 1,000 posts on its Facebook page,
100+ inspirational articles,
and so much more. We ROCK!
Rock (v):
astonish, astound, daze, dumbfound, jar, pitch, reel, roll, shake, shock, stagger, stun, surprise, sway, swing, tilt, tip, toss, wobble.
Women rock. In every sense of the word. Each and every one of us is special in her own way. And all of us are connected, through shared experience and common challenges. AWR
is an
online oasis for amazing women (and those who appreciate them).
Amazing Women Are Everywhere!
(Because EVERY woman is amazing.)
www.
amazingwomenrock.com is:
(amazingwomenrock.com is NOT a dating site.)
On AWR you can: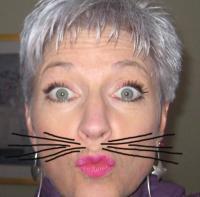 Read about amazing women, get inspired, learn interesting stuff , discover resources, read our blog, find more cool blogs and links, and much, much more!
AWR was created, developed and continues to be run by its founder Susan Macaulay (pictured at right, pretending to be a pussycat). You can read more about how and why Susan created the site here, and why she's pretending to be a pussycat here.
One of the main reasons behind the site is Susan's observation, shared by many experts in the arena of psychology, that women tend not to "blow their own horns," and as a result miss out on a lot of opportunities that life has to offer.
In their book "
The Women Who Broke All the Rules
," Susan B. Evans, Ed. D and Joan P. Avis, Ph.D observe that: "Women in general, have great difficulty taking credit for their success."

They wrote the book to "encourage Torchbearers (their name for the generation of women born between 1945 and 1955), to take pride in their incredible accomplishments and contributions to healthy living for women of all ages."
It's time for women to take pride in their achievements. Evans and Avis say every woman:
"has a story to tell – an untold story in most cases – that chronicles her choices, her hopes and dreams, her fears, and her efforts to do her best and evolve new truths from old, outdated rules."

This website, like Evans' and Avis' book, is a vehicle for those stories to be told and celebrated. One day we hope it will contain hundreds of thousands of stories celebrating the hopes, dreams and lives of women around the world.
(To read more about the creation of amazingwomenrock.com, click here.)