They Said They Would Cut Off Our Hands & Feet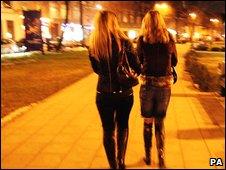 With tears in her eyes, the woman described the encounter that led to five weeks of "hell". She was working in her village in another Arab country when she was approached by a woman who told her she could make five times what she was earning if she came to the UAE.
"I had never travelled more than 85 kilometres away from my village," said the woman, who would be identified only as an Arab national in her 20s. "But I was desperate to make more money for my family."
Despite some trepidation, she was told not to worry and that someone would be waiting to meet her at Abu Dhabi airport. As promised, a sign bearing her name greeted her as she arrived and she was driven to a flat in the capital. Then the nightmare began.
For three days, confused and scared, she was held under lock and key with a group of women.
Then she was told she could start work but it was not the cleaning job she thought she had been hired for. The women were told they had to work as a prostitutes.
"For a week I refused," she said. "They started beating us and threatened to burn us with cigarettes. They told us if we spoke to the police they would cut off our hands and feet, and throw us in the desert, so no one would find us."
The woman was one of 15, most of whom were trafficked from Morocco to Abu Dhabi by the capital's largest known human-trafficking ring, which was exposed late last year.
Click here to read the full story:
By Zoi Constantine
The National
Photo Credit: The Advocates
Related links:
More About Sex Trafficking on AWR