The UAE's Sheika Lubna Rocks
Yvonne R. Davis, President and CEO of DAVISCommunications, is an internationally recognized leadership development coach, speaker, and award winning journalist. She is an expert in cross-cultural and global emerging markets. She's also an AWR member.

These paragraphs are excerpted from and article she recently wrote about Sheikha Lubna for Middle East Online.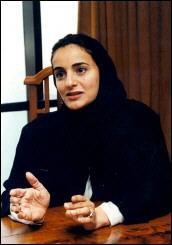 Sheikha Lubna Bint Khalid Al Qasimi was named United Arab Emirates Minister of Foreign Trade in early 2008.

Her appointments paved the way for three other women cabinet Ministers, as well as a growing host of young highly talented woman Ambassadors with considerable clout and power in their own right.

She is the forerunner of the women's empowerment in the UAE; influencing positive change in the entire Muslim and Arab world.

Sheikha Lubna is a blue blooded Princess -- the Qasimi family heads two of the UAE's seven Emirates (Sharjah and Ras al-Khaimah). She does not do any dainty stepping however. She is always thinking and busy on her blackberry, sending and receiving messages to and from leaders around the globe, she knows in her position she has fully replaced a size 10 man's shoe with a pair of pumps.

Click here for the full article
By Yvonne Davis
Middle East Online