The High Price Of Sex: Trafficked Women Pay With Their Lives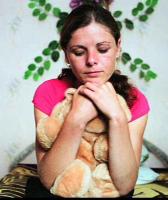 The U.S.-based Center for Investigative Reporting recently published
The Price of Sex
, a vast multi-media project by photojournalist Mimi Chakarova, who spent nearly seven years doggedly gathering the stories of female victims of sex trafficking.
Jenea (right) is
one of the young women
Chakarova
interviewed. She's from a small village in southern Moldova, and was sold into prostitution by a neighbour who had promised to help her get a job in Moscow.

At 18, Jenea found herself locked in a hotel room in Turkey, forced to sleep with as many as 50 men on some days. She escaped after one year.
Chakarova has charted hundreds of journeys across countries in Europe and to others in the Middle East, where the sex trade is booming, seemingly condoned by authorities in some places.
Her work sensitively presents the tragic stories of women from countries such as Moldova or the Ukraine who are sold into brutal sexual slavery, often by neighbours or acquaintances. The few women who manage to escape find themselves facing not only serious health issues or psychological trauma, but also the social stigma associated with having worked as sex workers.
Click here to read the full story by:
Claudia Ciobanu
Related links:
The Price of Sex: Women Speak