Teenager Jazzy Jordan Runs Across America & Wins Hearts Everywhere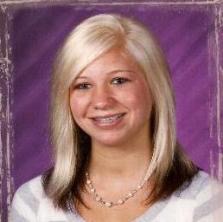 Sixteen-year-old Jasmine Jordan dreamed of competing at the 2012 Olympic Summer Games.
But she chose to put her dream on hold to help others achieve theirs.
Jazzy, as she is affectionately known, is running across the United States to raise awareness about medical insurance, as well as money for the
St. Christopher's Fund
, which supports truckers in need.
(
St. Christopher is the Roman Catholic patron saint of travellers.
)
This determined young woman, whose family is in the trucking and transportation business, gave up her Olympic dream to honour Sheila Grothe, a family friend who died of cancer on April 17, 2009.
"On that day I made a decision," Jordan says on her website, "that I will do something to change the system so people who don't have medical coverage to pay for treatments like the ones Sheila needed will have options (to help them get better)."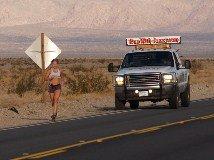 Jordan began her run in Los Angeles, California, on September 1, 2009, and has covered an average of 15 to 20 miles every day since. (To put that in perspective, an Olympic marathon is a little over 26 miles.)
Jordan has run in all kinds of weather, sometimes accompanied by other runners (such as
Doug Jones, who is blind and who ran more than seven miles with her in Nashville, TN
), sometimes with only her father in a back-up vehicle behind her, as in the picture at left.
Her courage, heart and tired feet have carried Jordan about two-thirds of the way to New York City, New York, her final destination.
Along the way, she has garnered huge support from American truckers, and a host of others, who are inspired by her quiet determination to make a difference.
Trucking veteran Granny Mozes sums up Jordan's spirit on
www.thetruckstar.com
's live radio show with host Daniel Audet, and guest Susan Macaulay, founder of www.amazingwomenrock.com:
Related links:
St. Christopher's Fund
Run With Jazzy Across The USA
Jazzy On Facebook
Truck Star Radio