Edith Widder On Bioluminescence
Susan notes: Thanks to TED for making TED Talks downloadable and embeddable, and for providing the biographical information that goes along with them.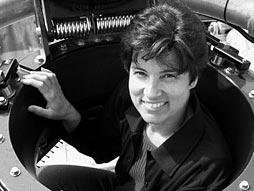 Some 80 to 90 percent of undersea creatures make light -- and we know very little about how or why. Bioluminescence expert Edith Widder explores this glowing, sparkling, luminous world, sharing glorious images and insight into the unseen depths (and brights) of the ocean.

Edith Widder combines her expertise in research and technological innovation with a commitment to stopping and reversing the degradation of our marine environment.

A specialist in bioluminescence, Edith Widder helps design and invent new submersible instruments and equipment to study bioluminescence and enable unobtrusive observation of deep-sea environments. One of these instruments, the Eye in the Sea observatory, has produced footage of rare sharks, squid and never-before-seen bioluminescent displays.

In 2005 she founded the Ocean Research & Conservation Association (ORCA), which is dedicated to protecting aquatic ecosystems and the species they sustain through the development of innovative technologies and science-based conservation action.
In an effort to protect and revitalize the ocean she loves she has been focusing on developing tools for finding and tracking pollution -- a major threat to all of our water ecosystems and ultimately to human health. She was awarded a MacArthur "genius" grant in 2006.
Related Articles