Tears Of A Clown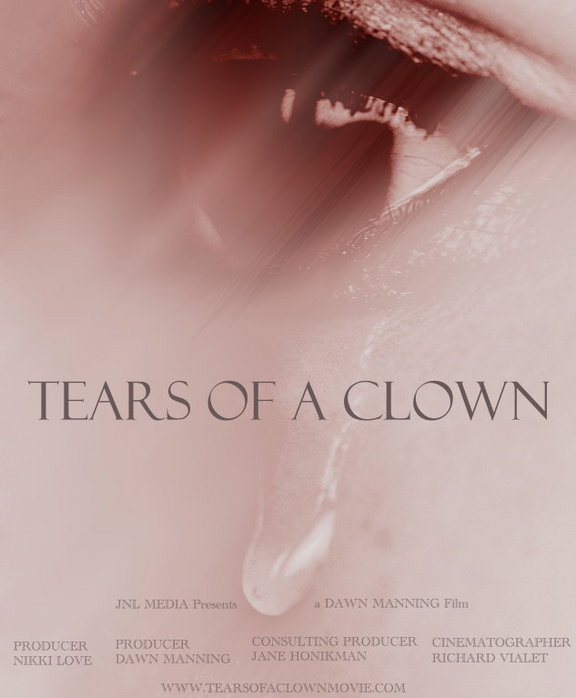 Film Producer and Founder of JNL Media, Nikki Love, will be returning to her hometown of Bolingbrook, IL for the making of "Tears Of A Clown", a feature film about Postpartum Psychosis.
JNL Media officially launched its TEARS OF A CLOWN Campaign on Mothers Day in recognition of Postpartum Awareness Month.
ABOUT THE FILM - Postpartum Psychosis drove Cheryl McIntosh to drown her own infant son. Now recently paroled, she must begin the tumultuous journey of starting over, all the while encountering the people from her past and her own haunting memories of the son she murdered.
The producers set their sights on Mothers Day to kick off their online campaign. The campaign is not only promoting awareness about the film, but also Postpartum Psychosis, a rare illness affecting mothers.
It occurs in approximately 1 to 2 out of every 1,000 deliveries, or approximately .01% of births. The onset is usually sudden, most often within the first 4 weeks postpartum.
Postpartum Support International Founder, Jane Honikman, has recently come on board as Consulting Producer after reading the script. "I read the script and at the end I was in tears! This needs to be expressed, the public needs to hear. Tears of a Clown was beautifully written, accurate, empathetic, sympathetic and REAL" says Jane.
The online campaign launched the website and the blog which features postpartum resources and interview clips, intertwined with heartwrenching stories shared by everyday mothers across the globe and their experiences with postpartum and its various stages.
The site also includes real life postpartum psychosis case studies. Visit www.TearsofaClownMovie.com for details.
After aligning themselves with some key players in the Postpartum Community the filmmakers simultaneously launched their crowd funding initiative on IndieGoGo. Crowd funding is a collective cooperation by people who network and pool their money and resources together to support efforts initiated by other people or organizations (tax deductible).
Their numerous meetings with Carol Blocker (www.MelaniesBattle.org, MOTHERS Act), Dr. Sarah Allen (Postpartum Depression Alliance of Illinois) and Kathleen Hamill (Assistant Appellate Defender) inspired them tremendously. Upon receiving their approval, the producers kicked their efforts into high gear.
With this built-in support system, they have high hopes for raising money for development funds for the project. Their goal is to raise $15K beginning in May (Postpartum Awareness Month) and throughout the month of June 2011. VIEW CAMPAIGN HERE
Writer/Producer Nikki Love and REEL Ladies Founder states, "I've been working on this script for 4 years now and have been praying constantly over this story. People, especially women, need to know about this illness AND we need to take it one step further, beyond just knowledge.
We need understanding, we need support, we need platforms for women to talk about what they are feeling and most of all, we need FORGIVENESS."
Nikki is already receiving tremendous support for the film from the Chamber of Commerce, major Postpartum Support Groups and local vendors. "I am honored by the outpouring of support from everyone and I KNEW Bolingbrook would support this vision".
She is hoping that the community would continue their support by donating to the Crowd Funding Campaign. Additionally, you can help just by spreading the word. "My hope is to get people to at least start a dialogue about Postpartum Depression & Psychosis. Mothers need to feel safe in sharing their most intimate thoughts and word of mouth is a powerful tool".
"Tears Of A Clown" is being produced by JNL Media and will be filmed predominantly in Bolingbrook & the surrounding areas. Pre-production is expected to begin by winter 2011 and filming by the beginning of 2012. For more information about TEARS OF A CLOWN, postpartum illnesses and how you can contribute and support the film, visit the official website: www.TearsofaClownMovie.com
ABOUT NIKKI
Nikki Love is a filmmaker and the founder of the popular social networking site form women filmmakers, REEL Ladies. She is in pre-production of the feature film, THE LAST FALL. She has 2 features being released this year that she produced DSYFUNCTIONAL FRIENDS and THREE TIMES A CHARM. She also produced the short film, SAVE ME, that will be hitting festivals soon! She currently resides in North Hollywood, CA with her husband of 9 years and attends the Los Angeles Bible Training School.