Take A Look: They Can Do It, So Can We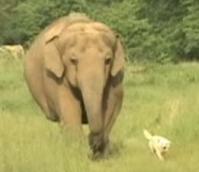 When elephants retire, many head for the Elephant Sanctuary in Hohenwald, Tenn. They arrive one by one, but they tend to live out their lives two-by-two.

"Every elephant that comes here searches out someone that she then spends most all of her time with," says sanctuary co-founder Carol Buckley.
"It's like having a best girlfriend. Somebody they can relate to, they have something in common with."
Debbie has Ronnie. Misty can't live without Dulary. Those are pachyderm-pachyderm pairs. But perhaps the closest friends of all are Tarra and Bella.

That would be Tarra the 8,700 pound Asian elephant. And Bella. The dog.
Related Articles