Susan Lim Asks Could We Be Transplanting Cells, Not Whole Organs?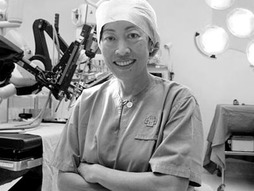 Pioneering surgeon Susan Lim performed the first liver transplant in Asia.
But a moral concern with transplants (where do donor livers come from ...) led her to look further, and to ask: Could we be transplanting cells, not whole organs?
At the INK Conference, she talks through her new research, discovering healing cells in some surprising places.
A surgical pioneer in Singapore, Susan Lim is a researcher and entrepreneur.
Susan Lim established her reputation as a surgeon in 1990 after performing Singapore's (and southeast Asia's) first successful liver transplant.
She has gone on to further pioneer in the field of general surgery, two new surgical technologies for Singapore, the mammotome minimally invasive breast biopsy and robotic surgery for the private sector.
She founded and is chair and CEO of Centre for Robotic Surgery and spearheaded the Robotic General Surgery Program for Singapore.
In 2003, Dr. Lim launched Stem Cell Technologies (i), a biotech company to research the use of adult stem cells for application in cell therapy and regenerative medicine.
In 2004, SCT(i) entered into research collaboration with National University of Singapore to specifically research the use of adult stem cells as a treatment for diabetes.
In 2008, the American Academy of Continuing Medical Education named its 28th award the Dr. Susan Lim Award, in honour of Dr. Lim's career, contribution and international achievement.
Susan notes: Thanks to TED for making TED Talks downloadable and embeddable, and for providing the biographical information that goes along with them.
Related Articles