Sunni Brown (Doodle Revolutionary)
Susan notes: Sunni Brown is one of 15 amazing women on stage at #TED2011. We're working hard to get TED to work harder on gender parity. ADD YOUR VOICE HERE.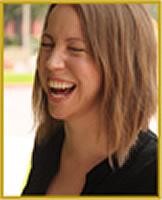 Sunni Brown is a business owner, creative director, speaker and co-author of one of Amazon's Top 100 Business Books titled GameStorming: A Playbook for Rule-breakers, Innovators and Changemakers. She's best known for her large-scale live content visualizations, and she is also the leader of The Doodle Revolution – a growing effort to debunk the myth that doodling is a distraction.
Using common sense, experience and neuroscience, Sunni is proving that to doodle is to ignite your whole mind – a concept she'll reinforce at the TED Conference in Long Beach this year (whoo!).
She will teach the world how to master "strategic doodling" in her 2nd book, The Doodle Revolution. But until the book exists, Sunni is content to interview, speak and write articles on the power of visual thinking.
Her work was recently featured in The Washington Post, Shape Magazine, Net Magazine UK, A List Apart and the Arab News. Sunni has presented on graphic facilitation, Gamestorming and innovation, and visual thinking and the brain at events like SXSW, the IDEA Conference, Duarte Design, the NY School of Visual Arts and her living room.
Here she is talking about the importance of doodling:

Related Links:
Twitter @SunniBrown
Overall Related Links:
AWR TED Talks By Amazing TED Women
Let's Take TEDxActionNow On Gender Parity
TEDWomen A Resounding Success! Or Was It?
Reboot To The Power Of Seven: The Amazing Women Of TEDxDubai 2010
A Dream Come True: 18 Amazing Girls & Young Women Make TED History
Advocating for Inclusion: A roundup of ideas from post-TEDx636 roundtable
Speak Up, Speak Out, Take The Stage: The World Needs More TED Women
Does the world need TEDWomen?
Separate Still Isn't Equal: Sexism Among TED Conferences
TEDWomen: Brilliant or Belittling?
Related Articles