Sudanese Journalist Faces 40 Lashes For Wearing Trousers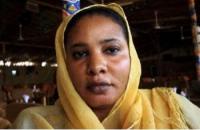 Susan notes: September 8 new update: Al Arabiya says journalist union pays USD 209 fine on Hussein's behalf and she is freed (via Ghassan Jaber).

Susan notes: September 8 reports say Hussein has been fined, but she refuses to pay. See links below.
Sudanese journalist Lubna Hussein is about to be tried for the crime of wearing trousers in public
(Reuters pic right)
. She faces a possible 40 lashes and an unlimited fine.
In a Guardian UK article, she says:
In fact the director of police has admitted that 43,000 women were arrested in Khartoum state in 2008 for clothing offences.

When asked,he couldn't say how many of these women had been flogged.

And it's not just about clothing.

After my arrest, two girls were arrested in a public place and the police discovered that their mobile phones had video clips of scenes from the hugely popular Arab soap Noor and Mohammad in which the main characters kiss each other. The girls were charged with pornography and given 40 lashes.

A September 7 article in The Malaysian Insider reports:
"This is not about pants", Lubna Hussein insists. "It is about principles".


"A woman should be able to wear what she wants and not be publicly whipped for it", says Mrs. Hussein, a defiant Sudanese journalist, and today her belief will be put to the test.

Mrs. Hussein has been charged in Khartoum, Sudan's capital, with indecent dress, a crime that carries a US$100 (RM350) fine and 40 lashings. She was arrested in July, along with 12 other women, who were caught at a cafe wearing trousers.

Hundreds of Sudanese women — many wearing pants — swarmed in front of the court where the trial was supposed to take place, protesting that the law was unfair. Twice now, the trial has been postponed. Some of the other women arrested with Mrs. Hussein have pleaded guilty and were lashed as a result. Past floggings have been carried out with plastic whips that leave permanent scars.


"The flogging, yes, it causes pain," Mrs. Hussein said. "But more important, it is an insult. This is why I want to change the law."
Convicted for wearing trousers (Sept 8, ABC News)
Lubna Hussein/Guardian.co.uk
Battle in Sudan Over Women's Dress
/The Malaysian Insider
Related articles:
Sudanese journalist faces flogging