Madison Razo Says Kids Don
Susan notes: Thanks to TED for making TED Talks downloadable and embeddable, and for providing the biographical information that goes along with them.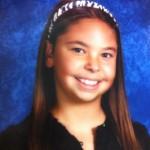 School fundraising…helping to select a new principal…winning awards…these would be impressive accomplishments standing alone, but at age ten, Encinita Elementary fifth grader Madison Razo has done it all.

Much of it is due to a love for writing–Madison has won several essay contests, including a recent award (sponsored by Panda Express) for her essay written on the Seven Habits of Happy Kids by Sean Covey.
Madison's passion and enthusiasm for learning landed her in the Gifted and Talented Education program (G.A.T.E). She was the first student in the Rosemead Unified School District to be invited to help interview and select the new principal for Encinita Elementary school.

Madison has starred in numerous productions throughout her elementary school years, and is active in all fundraising events to increase school funding.

Related Articles