Anna Dymna Speaks At TEDxWarsaw
Susan notes: Thanks to TED for making TED Talks downloadable and embeddable, and for providing the biographical information that goes along with them.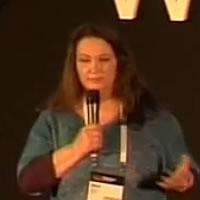 Anna Dymna is a stage and screen actress and a busy philanthropist working to provide creative outlets and life opportunities for people with mental and physical disabilities.

She is one of Poland's most distinguished thespians and has received numerous awards for her work, including the Golden Mask three times.

Since 2003 Anna has been the leader of her own charity foundation Mimo Wszystko (Against All Odds) which concentrates on improving life chances for the disabled and lowering the barriers which exist between people with disabilities and society at large.
Her Festiwal Zaczarowanej Piosenki (Enchanted Song Festival), named after the late singer and songwriter Marek Grechuta, makes it possible for talented singers, who happen to have a physical disability, to work with some of the country's leading performers.

Anna has also created the Cracow Poetry Salon, a weekly reading of poetry by most distinguished actors and poets which has now expanded into several other cities.

Related Articles