Stacey Kramer on How Terrifying News Became a Priceless Gift
Susan notes: Thanks to TED for making TED Talks downloadable and embeddable, and for providing the biographical information that goes along with them.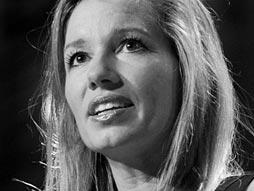 Stacey Kramer offers a moving, personal, 3-minute parable that shows how an unwanted experience -- frightening, traumatic, costly -- can turn out to be a priceless gift.

Stacey Kramer has traveled the United States and the world helping to create names and brands for growing companies.

Co-founder of Brandplay, a brand strategy firm, Stacey Kramer also founded Word for Word, a naming and branding consultancy serving national and global companies -- from big, recognizable names to next year's newsmaking startups.

In 2009, Kramer found herself confronting a terrifying diagnosis: a CAT scan revealed she had a brain tumor - the size of a golf ball. She told her remarkable, personal story at TED2010.
Related Articles