Sing Like No One Is Listening (Doggie Style)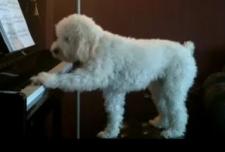 Susan notes: OMG. I just love this! The note that accompanies it on YouTube says:
Tucker, our one-and-a-half-year-old Schnoodle, plays the piano and sings along at least 3 or 4 times every day. In spite of all of his practicing, he really isn't getting any better at it.