Sia Nyama Koroma (Biochemist/Psychiatric Nurse/Current First Lady of Sierra Leone)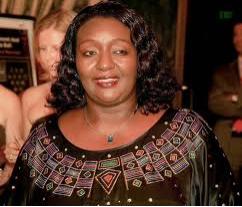 Sia Nyama Koroma (born on March 19, 1958 in Koidu Town, Kono District) is a Sierra Leonean Biochemist and Psychiatric Nurse.
She is the wife of Sierra Leone's president Ernest Bai Koroma and she is currently the First Lady of Sierra She holds a Master of Science in Organic Chemistry from the University of London and a Bachelor of Science in Nursing from the University of London and Fourah Bay College in Freetown.
Sia Koroma is a native of Kono District in Eastern Sierra Leone and a member of the Kono ethnic group. She is the mother of two daughters, Alice and Danke Koroma.
Sia Nyama Koroma was born on March 19, 1958 into a wealthy prominent political family from Kono District. Her mother Danke Koroma was a school teacher in Koidu Town and her father Abu Aiah Koroma (November 28, 1928 - March 6, 2005) was a Lawyer, and was Sierra Leone Attorney General from 1967 to 1968 under president Siaka Stevens.
Aiah Koroma served as the Managing Director of the National Diamond Mining Company based in Kono District from 1976 to 1987. Abu Aiah Koroma was also a Presidential candidate in the 1996 Sierra Leone presidential elections; he won only 4.9% of the vote.
Sia Koroma spent her early years at various primary schools around Sierra Leone as her Father was being posted from one place to another. For Secondary education, she settled at the Annie Walsh Secondary School in Freetown where she graduated as a Science student in 1976.
She proceeded to London for further studies which culminated in her gaining a Masters in Organic Chemistry. She started her working life at the Sierra Leone Petroleum Refinery where she rose to the position of Chief Chemist. Her duties at the Petroleum Refinery included routine quality control of petroleum products, management of subordinate staff team and other senior management responsibilities.
In September 2007, after a two-round election, Ernest Bai Koroma, a former insurance executive with no previous track record in politics, became the new President of Sierra Leone. His wife Sia Nyama Koroma who is a KT member was suddenly swept from being an 'ordinary' wife, mother and professional to be the First Lady of the country.
In February 2008, during a visit to the UK by the President and First Lady, the KT Sierra Leone Fellowship hosted a special service of thanksgiving for Sierra Leone. The special guest of honour was Mrs Sia Koroma.
The congregation which included Sierra Leone's High Commissioner and Deputy High Commissioner and other dignitaries was addressed by Pastor Amanda Dye. This is a brief recount of Sia's remarkable transformation from a servant in ministry to be the First Lady of Sierra Leone. Sierra Leone's New First Lady Sia Nyama Koroma is a woman of substance but with a humble disposition despite her admirable life achievements.
Although she hails from the most prominent political family in Kono District in Sierra Leone, prior to now, the highly educated Sia Koroma never sought the limelight but quietly stayed in the background, strategically supporting her husband's political ambitions. Sia's deep faith and conviction as a born-again Christian has been well documented over the past few months as she has settled into her new official role.<
Related Articles