Sheril Kirshenbaum (Biologist/Kissing Expert)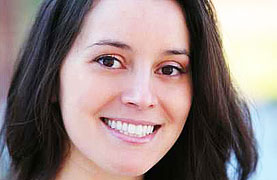 Biologist Sheril Kirshenbaum is the author of The Science of Kissing, which explores one of humanity's fondest pastimes.

A research scientist at the University of Texas, Sheril Kirshenbaum wrote The Science of Kissing, containing "everything you always wanted to know about kissing but either haven't asked, couldn't find out, or didn't realize you should understand."
She also co-authored Unscientific America: How Scientific Illiteracy Threatens Our Future with Chris Mooney, named by President Obama's science advisor John Holdren as his top recommended read.
She writes a science column at Bloomberg View and hosts the Convergence blog at Wired.com, focusing on the interdisciplinary nature of understanding our world with great emphasis on the conservation of biodiversity.

She works with the Webber Energy Group at the University of Texas at Austin's Center for International Energy and Environmental Policy, where she works on projects to enhance public understanding of energy issues as they relate to food, oceans and culture.

She is involved in conservation initiatives across levels of government, working to improve communication between scientists, policymakers and the public.

Website
Facebook
Twitter
Related Articles