Sheikha Mozah (Educationist)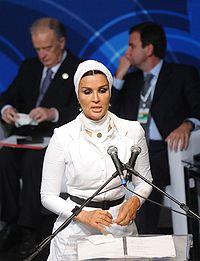 Sheikha Mozah bint Nasser Al Missned, DBE (born 1959) is the second of the three wives of Sheikh Hamad bin Khalifa Al Thani, Emir of the State of Qatar.
Sheikha Mozah was born in 1959 in the coastal city Al Khor in northern Qatar. She is the daughter of Nasser bin Abdullah Al Missned.
She married the Emir (at the time Heir Apparent) in 1977 at the age of 18, while she was attending Qatar University. She received a BA degree in Sociology from this university in 1986.
Sheikha Mozah is Chairperson of the Qatar Foundation for Education, Science and Community Development since 1995, Chairperson of Silatech since 2008, Chairperson of the Arab Democracy Foundation, President of the Supreme Council for Family Affairs since 1998.
Also, she is Vice-President of the Supreme Education Council since 2002 and was UNESCO's Special Envoy for Basic and Higher Education in 2003. Currently, she serves as a member of the Board of Overseers for Weill Cornell Medical College.
Besides this, she is also currently Chair of Sidra Medical and Research Center in Doha and the organisation "Your Link".
Unlike many other monarchical wives in the Middle East, Sheikha Mozah has been a high-profile figure in her nation's politics and society, actively involved in Qatar's government. She was a driving force behind Education City and Al Jazeera Children's Channel.
Additionally, she has been named as one of Forbes' 100 Most Powerful Women at #74.
Related Links:
Sheikha Mozah on Wikipedia
Sheikha Mozah Official Website