Sheikha Al Mayassa (Humanitarian/Eldest Daughter of the Emir of Qatar)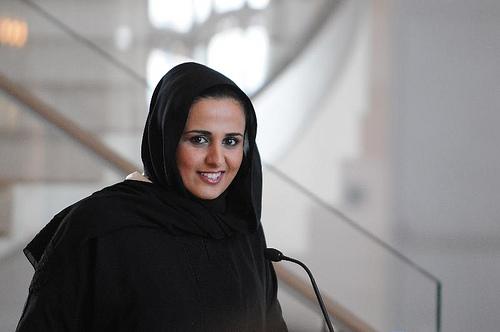 Sheikha Al-Mayassa bint Hamad bin Khalifa Al-Thani (born 1983) is the sixth child and eldest daughter of Sheikh Hamad bin Khalifa Al-Thani, the Emir of Qatar, and Sheikha Mozah bint Nasser Al-Missned.
Sheikha Al-Mayassa graduated from Duke University in the United States in 2005 with a B.A. degree in Political Science and Literature. While at Duke, she was Vice President of the International Association, Vice President of Hiwar (an organization to promote political dialogue), and a delegate to the 2001-2002 Model United Nations.
For the 2003-2004 school year, she studied at the University of Paris 1 Pantheon-Sorbonne, and the Institut d'Études Politiques de Paris (known as Sciences Po). She spent the summer of 2002 working in the Paris headquarters of the United Nations Educational, Scientific and Cultural Organization (UNESCO). Al-Mayassa is fluent in Arabic, English and French.
Sheikha Al-Mayassa currently serves as the Chair of the Qatari Foundation Reach Out To Asia (ROTA), a philanthropic effort inspired by the desire to help the victims of recent natural disasters in Asia. She also serves as the Chair of the Qatari National Foundation of Museums and as an Assistant to the Chief of Staff of Qatar's Emiri Diwan.
Al-Mayassa has been engaged in humanitarian efforts for many years and strongly believes that every individual has the opportunity to make a difference in their community and the world. She has recently increased her involvement and become a leader in this arena.
Her latest project, Reach Out To Asia, has raised 30 million dollars in just 5 months to help those people who lost homes, livelihoods and loved ones in last year's tsunami and the recent earthquake in Pakistan, Afghanistan and India. This initiative is also intended to develop primary and secondary education in the Asian least developed countries - with the aim of reaching the Millennium Development Goals in 2015.
Prior to her current work, Al-Mayassa was actively engaged in several humanitarian projects in the Persian Gulf and Asia regions. In 2003, she worked with Qatari Red Crescent organization (a partner of the Red Cross) to raise money for clothing and school equipment for the children of Iraq.
Between 2000 and 2001, she managed a charitable organization to raise money for Cambodian schools and traveled to that country to convey the proceeds. Earlier, she raised funds for the cause of Palestine and organized a Diabetes Camp for students in the countries of the Gulf Cooperation Council (GCC).
Related Links:
Sheikha Al Mayassa on Wikipedia