Senegal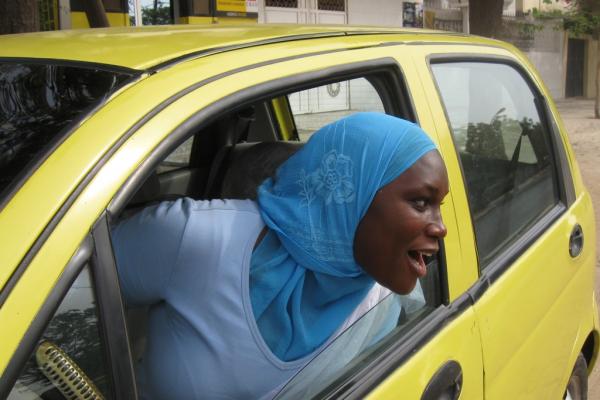 Dakar's female taxi drivers shatter taboos and open up transport field for women.
Much more is riding in the backseat of Amy Ndiane's chic neon yellow cab than the occasional passenger.
A Muslim woman, 30, who supports two kids from the fares she negotiates, Ndiane is an official, supported-by-the-president "Taxi Sister" — one of the select few female cabbies in Senegal.
"I heard there is a woman in the United States who drives a taxi," mused Ndiane, a former data entry typist. "For Africa, this is a first, for a woman to have a taxi."
Her novelty can be measured in the exclamations of well-wishers cheering her on from the crowded sidelines of Dakar's chaotic rush hour.
"Taxi Sister!" hollered a young man trudging up an unforgiving hill pushing a cart of juice for sale.
A laughing male taxi driver waved hello as he and Ndiane orbited a traffic circle together.
The rest of her fans are women — or girls like the teenager in school clothes who heave both hands into the air and cry out "Taxi Sister!" as Ndiane zips by.
"They all want to be taxi drivers," she said, then chuckled.
She isn't joking. Three years ago, when Senegal's government launched its all-women taxi fleet, it targeted modest numbers: Following a request by President Abdoulaye Wade, the state leased 10 hatchbacks on a rent-to-buy basis for women who wished to drive a cab.
Taxi Sister, the thinking went, would be a microfinance trial run for a government that is all but arm wrestling bank chiefs into lending to Senegal's un-banked masses. In addition it would be a nifty gesture towards female empowerment.
Click here for the full story:
By Drew Hinshaw
GlobalPost
Photo Credit:
Drew Hinshaw/GlobalPost
Related Links:
More About Senegal on AWR