Madhur Anand Speaks at TEDxWaterloo
Susan notes: Thanks to TED for making TED Talks downloadable and embeddable, and for providing the biographical information that goes along with them.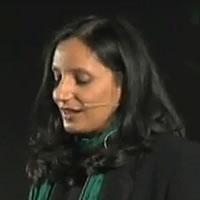 Madhur Anand is an internationally-recognized scientist and professor with over 45 publications in peer-reviewed scientific journals and currently holds the Canada Research Chair in Global Ecological Change at the University of Guelph.

Her research in forest ecology, ecological modeling and biodiversity spans several countries including Israel, Europe, India, China, Brazil and the USA. She serves on several journal editorial boards and granting panels and is currently President of the Sigma Xi Scientific Society (University of Toronto Chapter).
Dr. Anand is also a poet. Her poetry has been published in CV2, The New Quarterly, The Malahat Review, Room, Grain, Interim, Vallum and Maple Tree Literary Supplement, anthologized in The Shape of Content: Creative Writing in Science and Mathematics (2008) and nominated for a Pushcart prize (2007).

She is co-editor of the anthology entitled Regreen: New Canadian Ecological Poetry (2009; Your Scrivener Press), the first anthology of contemporary poetry about the environment and environmental concerns, a project that was inspired by the regreening of Sudbury.

She lives in Guelph with her husband and two small children.

Related Articles