Sarah Michelle Gellar (Actress)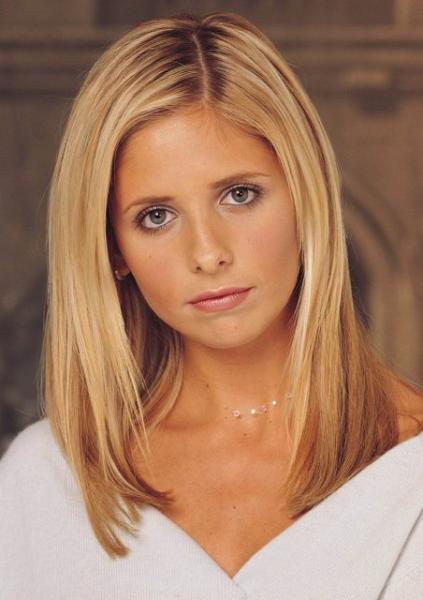 Sarah Michelle Prinze (born April 14, 1977), known professionally by her birth name of Sarah Michelle Gellar, is an American film and television actress.
She became widely known for her role as Buffy Summers on the WB/UPN television series Buffy the Vampire Slayer, for which she won six Teen Choice Awards and the Saturn Award for Best Genre TV Actress and received a Golden Globe Award nomination.
She originated the role of Kendall Hart on the ABC daytime soap opera All My Children, winning the 1995 Daytime Emmy Award for Outstanding Younger Actress in a Drama Series.
Her film work includes starring roles in I Know What You Did Last Summer (1997), Cruel Intentions (1999); Scooby-Doo (2002); the American remake of Japanese horror film The Grudge (2004); and The Return (2006).
Gellar also played an ex-porn star in Richard Kelly's Southland Tales (2007) and was part of an ensemble cast in The Air I Breathe (2008). Gellar also stars in Veronika Decides to Die (2009).
Gellar was born in New York City as the only child of Rosellen (née Greenfield), a nursery school teacher, and Arthur Gellar, a garment worker. Both of her parents were Jewish, though Gellar's family had a Christmas tree during the holidays while she was growing up.
In 1984, when she was 7 years old, her parents divorced and she was brought up solely by her mother on the Upper East Side. She graduated from Fiorello LaGuardia High School of the Performing Arts in 1995. Gellar was estranged from her father until his death from liver cancer on October 9, 2001.
At the age of four, she was spotted by an agent in a restaurant in Uptown Manhattan. Two weeks later, she auditioned for a part in An Invasion of Privacy, a made-for-television film starring Valerie Harper, Carol Kane and Jeff Daniels. At the audition, Gellar read both her own lines and those of Harper, impressing the directors enough to cast her in the role. She subsequently appeared in a controversial television commercial for Burger King, in which her character criticized McDonald's and claimed to eat only at Burger King. This led to a lawsuit by McDonald's. As a child, Gellar modeled for magazines.
Gellar appeared in TV series such as Spenser: For Hire and Crossbow, and had minor roles in the films Funny Farm (1988) and High Stakes (1989). In 1991, she appeared as a young Jacqueline Bouvier in the TV movie A Woman Named Jackie.
Gellar's first major break came in 1992, when she starred in the serial Swans Crossing and was subsequently cast in the soap opera All My Children, playing Kendall Hart, the long-lost daughter of character Erica Kane (Susan Lucci). In 1995, at the age of eighteen, she won a Daytime Emmy Award for Outstanding Younger Actress in a Drama Series for the role. It was on the set of this soap opera that she met Michelle Trachtenberg, who would later join the cast of Buffy the Vampire Slayer. Gellar also met co-star Sydney Penny, with whom she remains friends.
Gellar left All My Children in 1995. Gellar stated that she was screen tested eleven times (originally auditioning for the role of Cordelia), before she landed the lead in the 1997 TV series Buffy the Vampire Slayer, playing a teenager burdened with the responsibility of fighting a number of mystical foes, mostly vampires. The show was well received by critics and audiences alike, spawning a spin-off series (Angel), which featured three episodes in which she guest starred.
Throughout its seven seasons and a total of 144 episodes, Buffy, and by extension Gellar, became cult icons in the United States, Canada, the UK and Australia, particularly as an archetype of an "empowered" woman. Gellar sang several of the songs during the Buffy the Vampire Slayer musical episode "Once More, with Feeling", which spawned an original cast album.
Gellar has also hosted Saturday Night Live a total of three times (1998, 1999, and 2002), appearing in a number of comedy sketches. In 2000, Gellar guest appeared as Debbie in the HBO series Sex and the City episode "Escape from New York". Gellar has lent her voice to animated TV series, The Simpsons, King of the Hill, and several episodes of Robot Chicken.
Gellar built on her television fame with a motion picture career, and had intermittent commercial success. After roles in the popular thrillers I Know What You Did Last Summer and Scream 2 (both 1997), she starred in the 1999 film Simply Irresistible, a romantic comedy. Cruel Intentions (1999), a modern-day retelling of Les Liaisons dangereuses featured a kiss between Gellar and co-star Selma Blair that won the two the "Best Kiss" award at the 2000 MTV Movie Awards.
This film was a modest hit at the box office, grossing over $38 million in the United States and over $75 million worldwide, and earned several awards and nominations. Critic Roger Ebert stated that Gellar and co-star Ryan Phillippe "develop a convincing emotional charge" and that Gellar is "effective as a bright girl who knows exactly how to use her act as a tramp".
Gellar's role showed her versatility as an actress, and many were surprised to see her playing a brunette cocaine addict with an appetite for manipulating and using people. Her performance was praised by a number of critics, including Rob Blackwelder for SPLICEDwire, who wrote about the "dazzling performance by Sarah Michelle Gellar who plunges headlong into the lascivious malevolence that makes Kathryn so delightfully wicked. (Plus she looks great in a corset.)".
Gellar next played a lead role in James Toback's critically unsuccessful independent Harvard Man (2001), where she played the daughter of a mobster. The movie included two sex scenes with Gellar, helping her shed her good girl image even more after 1999's Cruel Intentions.
During her growing film career Gellar continued work on the television series Buffy the Vampire Slayer; however, she decided to leave the show after the seventh season. When asked why, she explained, "This isn't about leaving for a career in movies, or in theater – it's more of a personal decision. I need a rest."
Shortly after the show's end, Gellar stated that she had no interest in appearing in a Buffy feature film, but that she will consider it if the script is good enough.[14] She did not appear in the final season of Angel, causing the intended episode ("You're Welcome") to be rewritten for the character of Cordelia Chase.
Gellar has said that she was willing to appear in the episode, but scheduling conflicts and family problems prevented it. Another actress voiced Buffy for an animated series based on the show, which never aired, and the various Buffy video games.
In her feature in Esquire magazine Gellar expressed her pride for her work on Buffy, "I truly believe that it is one of the greatest shows of all time and it will go down in history as that. And I don't feel that that is a cocky statement. We changed the way that people looked at television." Gellar's likeness is used in the comic continuation of the series.
After the end of Buffy the Vampire Slayer, Gellar's next film was the 2004 horror film The Grudge, which was a success at the box office. David Wirtschafter, the president of the William Morris Agency (which represented Gellar), subsequently told The New Yorker that the success of The Grudge "takes our client Sarah Michelle Gellar, who now is nothing at all, and...makes her a star, potentially. Suddenly, the Sarah Michelle Gellar space is meaningful". The remark led Gellar to terminate her association with the agency; Gellar is now represented by the Creative Artists Agency.
Gellar appeared in the sequel The Grudge 2, which opened in October 2006; in the film, she has a minor role reprising her character from the first film. Gellar next appeared in the thriller The Return, which was released the following month and in which she played a businesswoman haunted by memories of her childhood and the mysterious death of a young woman.
The movie was marketed as a horror movie and many including critics were surprised to find The Return was, as Rafe Telsch said, "just a murder mystery with a few supernatural elements". The movie pulled in a disappointing $4,800,000 weekend gross with little promotion.
Gellar then lent her voice to two animated films: the animated fairy tale Happily N'Ever After, and Teenage Mutant Ninja Turtles. She followed those with a string of films including Southland Tales, The Air I Breathe, Suburban Girl (earlier known as "A Girl's Guide to Hunting and Fishing"), and Possession (a supernatural thriller based on the South Korean film Jungdok known to English language audiences as Addicted). Southland Tales opened at the Cannes Film Festival in May 2006 and was released in the U.S. in November 2007.
Suburban Girl and The Air I Breathe were screened at the 2007 Tribeca Film Festival. Suburban Girl did not receive a theatrical release and was released on DVD in early 2008. It was described as "a blend of Sex and the City and The Devil Wears Prada" and a "pseudo-sophisticated romantic comedy" according to Variety.com.
Her on screen chemistry with Alec Baldwin was either criticized or praised, with Eye For Film commenting, "The film works best when Baldwin and Gellar are together – aside from the fact that Gellar seriously needs to eat a bun or two". Film website moviepictirefilm.com stated "Gellar and Baldwin both give wonderful performances and make their chemistry incredibly real and ultimately, quite heartbreaking. Containing a ton of laughs and killer fashion that could give "The Devil Wears Prada" a run for its money, this movie has something uncommon in most romantic comedies, tons of style and a huge heart."
The Air I Breathe was released theatrically the same month to generally poor reviews. The New York Times called it a "gangster movie with delusions of grandeur." However, Gellar's performance was praised by a number of critics, DVD Talk Review noted that "her character here has the deepest emotional arc, and she hits all the right notes."
Gellar was offered a role in Stardust but turned it down to spend more time with her husband. Other roles she turned down include an undisclosed role in The Faculty. She was also offered the role of Brittany Foster in The In Crowd, but turned it down. The part later went to Susan Ward.
On June 25, 2008, it was announced she is no longer attached to the film version of the video game American McGee's Alice.
It was reported on September 25, 2008 that Gellar would return to television in the HBO series The Wonderful Maladys. The show is about three dysfunctional adult siblings living in New York and struggling to deal with the loss of their parents years ago. Creator Charles Randolph told Variety that he wrote the part with Gellar in mind, and described Gellar's character as having "a kind of zealous immaturity – like a drug addict with a to-do list." Gellar and Randolph would serve as executive producers. HBO shot the pilot in May 2009. According to an interview with Adam Scott the show was not picked up.
The film Possession, starring Gellar, has had a range of release dates – starting with February 2008. The film was finally set to be released in theatres in January 2009, but due to financial problems at YARI Film Group, the release was yet again pushed forward. In March 2009 it was announced that the film would skip theatrical release altogether, and go straight to DVD/Blu-Ray. It was set to be released on May 12, 2009. However, the movie was not released on DVD/Blu-Ray as scheduled. Possession was released straight to DVD in March 2010.
Gellar also stars in Veronika Decides to Die (2009). The film tells the story of a young woman suffering from severe depression who rediscovers the joy in life when she finds out that she only has days to live following a suicide attempt. Filming of the movie began on May 12, 2008, in New York City and finished in late June. It was reported that Kate Bosworth was previously attached to the project. The film was released in Brazil on August 21, 2009.
Related Links:
Sarah Michelle Gellar on Wikipedia