Sarah Marquis (Explorer)
Susan notes: Sarah Marquis is one of 15 amazing women on stage at #TED2011. We're working hard to get TED to work harder on gender parity. ADD YOUR VOICE HERE.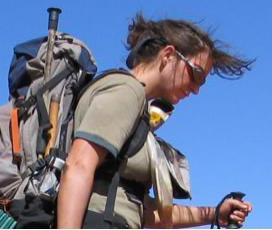 Sarah Marquis first began exploring when she was eight years old - she took off with her dog to spend the night in a cave and didn't tell anyone where she was going. At seventeen she crossed the Central Anatolia (Turkey) on horseback, without knowing how to ride.
She has travelled through Australia, New Zealand, the wild lands of Patagonia, and Moorea (French Polynesia). She explored Canada by canoe and in 2000 she crossed the United-States, from Canada to the Mexican border… 4,260 km in four months and six days.
She walked the Australian deserts in survival mode, taking 17 months to cross 14,000 km on foot. She came back changed and accompanied by a dingo (wild dog). By saving his life she ended up with an accomplice named Joe.
She spent eight months trekking in the Andes, from Chile to Peru via Bolivia. In 2010 she began a journey from Siberia to Australia… from the cold to the desert and from high altitudes to jungles.
Thirty years ago, I spent about 18 months traveling in Australia and New Zealand. In many ways, I'm still on the road. I don't understand what she's saying in this short video, but to me it captures the essence of what it means to be "on the road." It's life.

Related Links:
Related Articles