Sarah Kay (Poet)
Susan notes: Sarah Kay is one of 15 amazing women on stage at #TED2011. We're working hard to get TED to work harder on gender parity. ADD YOUR VOICE HERE.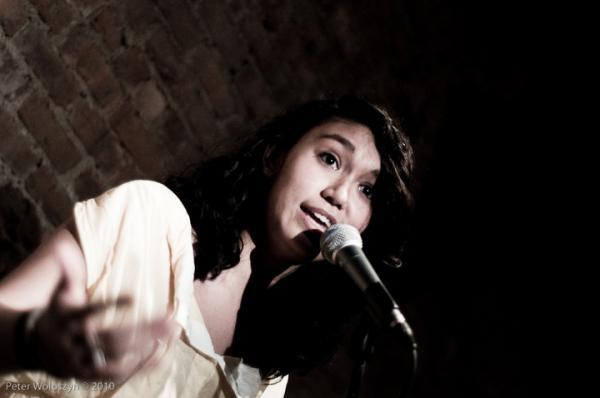 Sarah Kay (born June 19, 1988) is an American poet who grew up in New York City and began performing her poetry when she was only fourteen years old.
Even though she was often the youngest poet by a decade, Sarah made herself at home at the Bowery Poetry Club, one of New York's most famous Spoken Word venues.
In 2006, she joined the Bowery Poetry Club's Poetry Slam Team, NYC Urbana, and competed in the 2006 National Poetry Slam in Austin, Texas. That year, she was the youngest poet competing at Nationals.
Sarah was featured on the sixth season of the television series Russell Simmons presents HBO Def Poetry Jam, where she performed her poem "Hands."
She has performed in venues across the country including the United Nations, where she was a featured performer for the launch of the 2004 World Youth Report.
She has also performed internationally in the Czech Republic, the United Kingdom, India, and South Africa. Sarah is a published author, whose work can be found in literary publications such as Foundling Review, Damselfly Press, decomP, among others.
In 2004, Sarah founded Project V.O.I.C.E. and has since taught Spoken Word Poetry in classrooms and workshops all over the world, to students of all ages.
Related Links:
Facebook
Projct VOICE Website
15 Trailblazers Take The Stage (And A Feminist's Guide To TED 2011)
AWR TED Talks By Amazing TED Women
Let's Take TEDxActionNow On Gender Parity
TEDWomen A Resounding Success! Or Was It?
Reboot To The Power Of Seven: The Amazing Women Of TEDxDubai 2010
A Dream Come True: 18 Amazing Girls & Young Women Make TED History
Advocating for Inclusion: A roundup of ideas from post-TEDx636 roundtable
Speak Up, Speak Out, Take The Stage: The World Needs More TED Women
Does the world need TEDWomen?
Separate Still Isn't Equal: Sexism Among TED Conferences
TEDWomen: Brilliant or Belittling?