Sarah Kaminsky: My father the forger
Sarah Kaminsky writes about her father, Adolfo Kaminsky, a forger with a mission.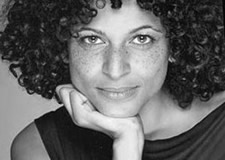 Born in 1979 in Algeria, of an Argentinean father with Russian origins, and a Tuareg Algerian mother, Sarah Kaminsky arrived in France when she was 3 years old. Passionate about art since her childhood, she started learning the cello at age 4.
As a teenager, she discovered two passions, which are still vibrant in her life: theater and writing. Since then, she's shared her time between her acting career and writing screenplays, plays or books.
In 2009, Sarah wrote a book worthy of the best spy novels, based on the true story of her father, Adolfo Kaminsky, genius-forger who committed his know-how and convictions to serve the French Resistance during World War II, saving thousands of Jewish families, and many others over the course of 30 years for various causes around the world.
Susan notes: Thanks to TED for making TED Talks downloadable and embeddable, and for providing the biographical information that goes along with them.
Related Articles