Sandra Day O'Connor (First Female Member of the Supreme Court of the United States)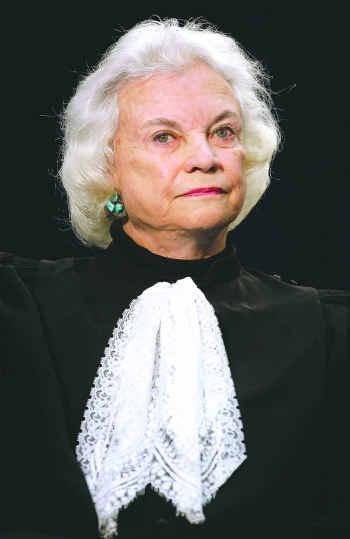 Sandra Day O'Connor (born March 26, 1930) is an American jurist who was the first female member of the Supreme Court of the United States. She served as an Associate Justice from 1981 until her retirement from the Court in 2006.
O'Connor was appointed by President Ronald Reagan in 1981. During her tenure, she was regarded as the Court's leading centrist, and was the swing vote in many cases.
Prior to O'Connor's appointment to the Court, she was an elected official and judge in Arizona. On July 1, 2005, she announced her intention to retire effective upon the confirmation of a successor.
President George W. Bush first unsuccessfully nominated Harriet Miers to replace O'Connor, then nominated Justice Samuel Alito to take her seat in October 2005, and he joined the Court on January 31, 2006.
O'Connor is Chancellor of The College of William & Mary in Williamsburg, Virginia, and serves on the board of trustees of the National Constitution Center in Philadelphia, Pennsylvania.
In 2001, the Ladies' Home Journal ranked her as the second-most-powerful woman in America.[5] In 2004 and 2005, Forbes magazine listed her as the sixth- and thirty-sixth-most-powerful woman in the world, respectively; the only American women preceding her on the 2004 list were then-National Security Advisor Condoleezza Rice, then-U.S. Senator Hillary Rodham Clinton, and then-First Lady Laura Bush. On August 12, 2009, she was awarded the Presidential Medal of Freedom, the highest civilian honor of the United States, by President Barack Obama.
She was born in El Paso, Texas, to Harry Alfred Day, a rancher, and Ada Mae Wilkey. She grew up on a cattle ranch near Duncan, Arizona. She later wrote a book with her brother, H. Alan Day, Lazy B : Growing up on a Cattle Ranch in the American West, about her childhood experiences on the ranch. For most of her early schooling, O'Connor lived in El Paso with her maternal grandmother, and attended public schools and the Radford School for Girls, a private school.
She graduated sixth in her class at Austin High School, in El Paso, in 1946. She attended Stanford University, where she received her B.A. in economics in 1950. She continued at the Stanford Law School for her LL.B., serving on the Stanford Law Review with its presiding editor in chief, future Supreme Court Chief Justice William Rehnquist, who was the class valedictorian, and whom she briefly dated during law school.
On December 20, 1952, she married John Jay O'Connor (John J. O'Connor III) and they have three sons: Scott, Brian, and Jay. Her husband suffered from Alzheimer's disease for nearly twenty years prior to his death and she has become involved in creating more awareness about the disease. By November 2007, her family's situation had been made more difficult since, because of memory loss, her husband formed new personal attachments in the institution where he lived while not fully recalling his life-long family connections, yet her family was relieved to see her husband of 55 years so content. John O'Connor died on November 11, 2009, aged 79.
In spite of her accomplishments at law school, no law firm in California was willing to hire her as a lawyer due to her sex, although one firm did offer her a position as a legal secretary, an offer which she declined in order to pursue her aim of becoming a lawyer.
She therefore turned to public service, taking a position as Deputy County Attorney of San Mateo County, California from 1952—1953 and as a civilian attorney for Quartermaster Market Center in Frankfurt am Main, Germany, from 1954—1957. From 1958—1960, she practiced law in the Maryvale neighborhood of Phoenix, Arizona, and served as Assistant Attorney General of Arizona from 1965—1969.
In 1969 she was appointed to the Arizona State Senate by Republican Arizona Governor Jack Richard Williams and was subsequently re-elected as a Republican to two two-year terms. In 1973, she was elected majority leader.
In 1975, she was elected judge of the Maricopa County Superior Court (Arizona) and served until 1979, when she was appointed to the Arizona Court of Appeals by Democratic Arizona Governor Bruce Babbitt. During her time in the Arizona state government, she served in all three of its branches.
On July 7, 1981, Reagan — who had pledged during his 1980 presidential campaign to appoint the first woman to the Court — nominated O'Connor as an Associate Justice of the Supreme Court, to replace the retiring Potter Stewart.
Pro-life and religious groups opposed O'Connor's nomination because they suspected she would not be willing to overturn Roe v Wade. U.S. Senate Republicans, including Don Nickles of Oklahoma, Steve Symms of Idaho, and Jesse Helms of North Carolina called the White House to express their discontent over the nomination; Nickles said he and "other profamily Republican senators would not support" O'Connor.
For her part, O'Connor refused to telegraph her views on abortion, and she was careful not to leave the impression that she supported abortion rights. O'Connor told Reagan she did not remember whether she had voted to repeal Arizona's law banning abortion. However, she had cast a preliminary vote in the Arizona State Senate in 1970 in favor of a bill to repeal the state's criminal-abortion statute. In 1974, O'Connor had voted against a measure to prohibit abortions in some Arizona hospitals.
Reagan wrote in his diary on July 6, 1981: "Called Judge O'Connor and told her she was my nominee for supreme court. Already the flak is starting and from my own supporters. Right to Life people say she is pro abortion.
She says abortion is personally repugnant to her. I think she'll make a good justice." On September 21, O'Connor was confirmed by the U.S. Senate with a vote of 99–0. In her first year on the Court she received over 60,000 letters from the public, more than any other justice in history.
Related Articles