Sally Priesand (America's First Ordained Female Rabbi)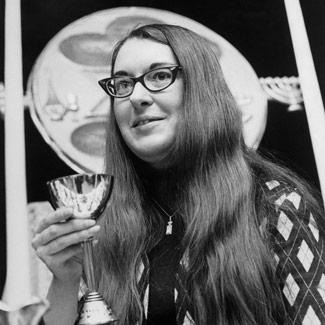 Sally Jane Priesand (born June 27, 1946 in Cleveland, Ohio) is America's first ordained female rabbi.
Priesand was ordained in June, 1972, by the Reform Hebrew Union College-Jewish Institute of Religion in Cincinnati, Ohio.
In perpetuating and expanding the modernizing tradition of the Reform movement, Rabbi Alfred Gottschalk performed her ordination, making her the first woman to be ordained in the United States and believed to be only the second woman ever to be formally ordained in the millennia-long history of Judaism.
Rabbi Gottschalk called the ordination of Priesand "historic", one that breaks stereotypes and allows "Jewish women to consider seeking the rabbinate" and a testament to Reform Judaism's efforts at achieving "equality of women in the congregation of the Lord". Priesand wept when Gottschalk spoke with her as she was handed her ordination certificate.
Upon ordination, Priesand accepted a position at Stephen Wise Free Synagogue in New York City where she served for seven years, first as Assistant Rabbi and then as Associate Rabbi. From 1979-1981, she was Rabbi of Temple Beth El in Elizabeth, New Jersey and also served as Chaplain at Manhattan's Lenox Hill Hospital.
In 1981, she became spiritual leader of Monmouth Reform Temple in Tinton Falls, New Jersey where she served until her retirement in June, 2006. She is now the rabbi emerita of the same synagogue.
During her rabbinate, Monmouth Reform Temple was a leader in the fight against drunk driving, launched a nationally recognized gun safety campaign (Please ASK), created a permanent Fund for the Homeless to support the work of Interfaith Neighbors, sponsored an annual food drive for The Center in Asbury Park, continued to host an annual Monmouth County arts festival, and instituted an annual "Mitzvah Day" of charitable volunteerism.
Priesand has leadership roles in the Jewish Federation of Greater Monmouth County, Planned Parenthood of Central New Jersey, the Center for Holocaust Studies at Brookdale Community College, the Jewish Heritage Museum of Monmouth County, and she is president of the board of directors for Interfaith Neighbors Inc.
Priesand served on the Executive Board of both the Central Conference of American Rabbis and the Union for Reform Judaism. She also served on the Board of Governors of HUC-JIR and as President of the Rabbinic Alumni Association. Currently, she is editor of the CCAR Newsletter.
In 2007, she invited her female rabbinic colleagues of all denominations to join her in donating their professional and personal papers to the American Jewish Archives in Cincinnati, Ohio, in order to document the history of women in the rabbinate.
On April 23, 2009 she received the prestigious Elizabeth Blackwell Award. Dr. Elizabeth Blackwell (1821–1910) was the first woman in America to receive the Doctor of Medicine degree, and the Elizabeth Blackwell Award is given by Hobart and William Smith Colleges (Geneva, New York) to a woman whose life exemplifies outstanding service to humanity.
In 2010, in honor of its 125th anniversary, Good Housekeeping Magazine named her one of 125 women who changed our lives and our world.
Related Links:
Sally Priesand on Wikipedia
Sally Priesand on Wikipedia