Sahar Khalifeh (Writer)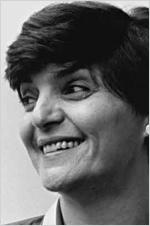 Sahar Khalifeh (Arabic: ??? ??????) is a Palestinian writer born in 1942 in Nablus of the West Bank.
After studying at the University of Birzeit, in the Palestinian occupied territories, she received a Fulbright scholarship and went to continue her studies in the US.
She got an MA in English Literature from the University of North Carolina, Chapel Hill and a PhD in Women's Studies from the University of Iowa before returning to Palestine in 1988.
She is the founder of the Women's Affairs Center in Nablus, which now has branches in Gaza and Amman, Jordan. She is considered one of the most prominent Palestinian writers.
Her works include several novels and essays, translated into several languages, including Hebrew, as well as non-fiction writing.
She won the 2006 Naguib Mahfouz Medal for Literature for her novel The Image, the Icon, and the Covenant.
One of her best-known works is Wild Thorns. An excerpt reads as follows:
'Halt!' The order came from a soldier sitting in front of the wooden walkway. Usama stopped, his heart pounding. 'Open your suitcase!' The Israeli stretched out his hand and rifled the contents. 'What's this?' 'Librium.' 'Yeah, you people are crazy about that stuff.'
Related Links:
Sahar Khalifeh on Wikipedia