Running Until My Son Comes Home From War
By Vivian White
Posted May 26, 2009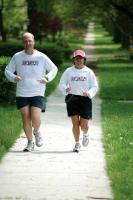 I'm a 51-year-old mother whose 20-year-old son is serving in Iraq.
When Brian left last January it was very hard for me to say goodbye, especially as he was going off to war.
So, in order to feel closer to him, and stay connected with him, I decided to run the distance from where I live in Illinois to where he's stationed in Iraq, 6,436 miles away, and to run it in one year - sort of like I was running to bring him home.
Once I completed the distance, his tour would be over and he would come home.
Even though I'm a runner, 6,436 miles was huge - so I've enlisted my husband, and a few other family members to put in miles for Brian as well. So far, after 4 1/2 months, we've reached almost 2,000 miles! And we're still running....
We run not only to honor my son, but for all the soldiers overseas, and the sacrifices they make every day for our country, our flag, and all of us.
Susan notes: I asked Vivian about others donating miles. Here's what she said:
Susan, We are accepting miles. Not only do we want to accumulate miles, but also give others who are touched by our story a chance to contribute and be a part of it. So, certainly if you want to post a blog that'd be great. You could just direct them to email me directly if they'd like to contribute miles or share similar stories about their soldiers, I'd really like that. Thanks again!

Vivian (

This email address is being protected from spambots. You need JavaScript enabled to view it.

)
Related links:
On War, Soldiers and Being Apart