Rosa DeLauro (Congresswoman)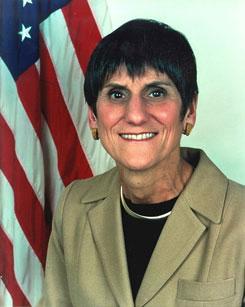 Rosa L. DeLauro (born March 2, 1943) is the U.S. Representative for Connecticut's 3rd congressional district, serving since 1991. She is a member of the Democratic Party.
The district is based in New Haven, and includes most of that city's suburbs.
DeLauro was born to an Italian-American family in New Haven, and earned her high school diploma from The Academy of Our Lady of Mercy, Lauralton Hall in Milford, Connecticut.
She earned a bachelor's degree from Marymount College in Tarrytown, New York, as well as separate master's degrees from the London School of Economics and Columbia University.
DeLauro worked as an administrative assistant and chief of staff for Senator Chris Dodd and executive director of EMILY's List before entering the House.
DeLauro is one of the most liberal members of the House. She is a founding member of the Congressional Progressive Caucus.
Rosa DeLauro is active on health policy issues, particularly women's health. She has introduced numerous bills aimed at improving cancer treatment and research and women's health policies. As chair of the appropriations subcommittee that funds the Food and Drug Administration, she has been an outspoken critic of that agency's failures to protect the public from unsafe foods and medical products.
On October 3, 2008, DeLauro voted a second time in the House in favor the Emergency Economic Stabilization Act of 2008 to help stabilize an economic crisis. She worked to pass the Paycheck Fairness Act. She has urged politicians to be "big thinkers" on the issue of universal health care.
DeLauro was strongly critical of the Stupak-Pitts Amendment, which places limits on taxpayer-funded abortions in the context of the November 2009 Affordable Health Care for America Act.
DeLauro is pro-choice. She supports the availability of abortions in the case of incest, rape, as well as when the woman is endangered. Additionally, representative DeLauro supports the use of federal subsidies for abortion procedures.
In 2006 DeLauro voted against HR 6099, a bill that would require abortion providers to follow specific procedures and formalities before performing abortions. She also voted no in 2006 on a bill that makes the transportation of pregnant women under the age of 18 across state lines in order to obtain an abortion illegal.
Rosa L. DeLauro strongly supports and has consistently voted for increased gun control in the United States. In 2006 she voted against the Trigger Lock Amendment that ends the use of funds from the Commerce Department FY2007 Appropriation bill to enforce laws requiring guns to be sold with locks. Additionally, DeLauro voted in 1999 to increase the amount of time given to perform background checks from 24 hours to 72 hours. Earlier, in 1998 she voted to increase the minimum gun crime sentence.
In June of 2010 representative DeLauro voted in favor of a bill for new disclosure requirements for political advertising. She voted against the 527 Reform Act of 2005, an act that put an end to party spending limits for candidates during general elections and again against the 527 Reform Act of 2006. DeLauro also helped to pass the Lobbying and Donation Regulations bill that put in place new regulations about lobbyists and donations for Congress members.
In 2002 DeLauro voted for the Help America Vote Act of 2002. This act provided, from Federal funds, $3.9 billion to modernize technology and create new programs to reach a higher standard and to make voting an easier process for disabled citizens, military personnel, citizens living abroad, and first-time voters without valid identification.
Once again in 2006 representative DeLauro voted to simplify the voting process by casting her vote against the Federal Election Integrity Act of 2006 that required voters to show a government-issued photo identification before voting
DeLauro recently sponsored the Birth Defects Prevention, Risk Reduction, and Awareness Act of 2010 (H.R. 5462). This bill allows the Secretary of Health and Human Services to create a birth defects prevention, risk reduction, and awareness program that will cost Americans less than one dollar from 2011 to 2015.
The program will increase awareness about pregnancy and breastfeeding by starting a nationwide media campaign and provide grants for research on certain exposures that effect pregnancy and breastfed infants. Most recently, on the fifteenth of November, 2010, this bill was received in the Senate and referred to the Committee on Health, Education, labor, and Pensions.
In May 2010, the Washington Examiner reported that DeLauro and her husband, media consultant Stanley Greenberg had provided free rent at their Washington, DC home to then Congressman and present White House Chief of Staff Rahm Emanuel.
At the time Emanuel received free rent from the couple, Greenberg's firm was engaged in a public relations campaign for British Petroleum touting their environmental record. Critics had accused Greenberg of greenwashing BP's true record.
Related Links:
Rosa DeLauro on Wikipedia
Rosa DeLauro Official Site