Risky Saudi Art Mixer Goes Off Without A Hitch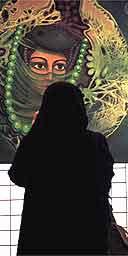 In other capitals of the world, it would not have been an extraordinary scene.
An opening at a hot new art gallery with men and women mingling and enjoying themselves.
But in this case, part of the frisson was nerves. Would the marauding religious police see unmarried — and some uncovered — women talking freely with men in the merry crowd of 600 and stage a raid?
It was an unlikely moment, SoHo comes to Saudi Arabia — the first mixed exhibition anyone can remember in Riyadh, the stultifying capital of a country that bans any exhibition of skin, fun or romance.
But the most astonishing part was that the Islamic purity enforcers failed to show up at Art Pure.
"I was worried, but the religious police just sort of disappeared," recalled Mounira Ajlani, the mother of Noura Bouzo, a 27-year-old artist featured at the exhibition who painted the saucy "Saudi Bling." "It was very relaxed, very normal. Everyone was saying, 'Are we in Saudi Arabia?' "
Sarah, a young Saudi professional who was at the gallery that night, agreed: "It was remarkable. You saw women covered from head to toe. You saw women uncovered. You saw men of all different classes come, and they were extremely comfortable, and everyone looked at the art and left."
Progress is measured by a sundial in this stunted desert kingdom. Sarah dryly refers to it as "Saudi time."
As women nudge their way into the work force, they are still hampered by archaic tribal rules and patriarchal religious ones.
An American Muslim working here says there are hard adjustments, like hearing men use the occasional epithet "Dog" to address her, and not being able to leave the airport coming home from a business trip because she has no husband or male relative to pick her up.
She had to secure a letter from her employer stating that she could leave the airport on her own. When she wanted to buy a car, she had to use the subterfuge of having a male friend buy it for her, and even then, she can't drive it except in one of the exclusive compounds with looser rules.
Click here for the full story:
By Maureen Dowd
New York Times
Photo Credit: New York Times
Related links:
More about Saudi Arabia on AWR