Report Lambastes Officials For Punishing Trafficking Victims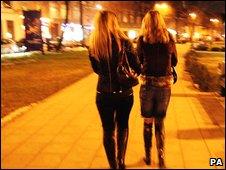 "Ignorant" officials are obsessed with punishing victims of trafficking rather than targeting those behind the crime, a report claims.
A coalition of human rights groups says the system for handling victims in the UK is "not fit for purpose".
It wants an independent anti-trafficking watchdog to be created to oversee the work of officials.
The government says it will "look very carefully" at criticisms of the system "and act where necessary".
The Anti-Trafficking Monitoring Group is a coalition including Anti-Slavery International, Amnesty International UK and ECPAT UK (End Child Prostitution, Child Pornography and the Trafficking of Children).
In its report, "Wrong kind of victim?", it accuses the government of breaching its obligations under the European Convention Against Trafficking.
Amnesty International UK director Kate Allen said the emphasis must be "switched to victim protection, so that it's not all about hounding people for immigration offences".
"We pushed hard for the government to sign up to the anti-trafficking convention, but the government has botched its attempt to deal with this most despicable of crimes," she said.
"In particular, the identification system is clearly not fit for purpose, with under-trained staff displaying ignorance over what trafficking actually is."
Click here for the full story:
BBC News
Related Links:
More About Trafficking on AWR
Trafficking in Wales