Rape Victims Need More Support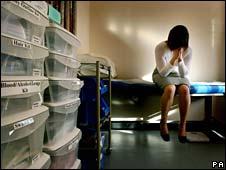 A new approach is needed to give greater priority to the care and support of rape victims, a major review in England and Wales has said.
The review's author, cross-bench peer Baroness Stern, said debate has been too focused on rape conviction rates.
Her recommendations include offering every rape victim a specialist adviser to support them after an attack.
The report acknowledged attitudes and practices have improved but said implementation had been patchy.
Lady Stern, a prisons reformer, was commissioned by ministers to review how police, prosecutors and other bodies deal with complaints of rape.
During her five-month study she talked to more than 200 people ranging from rape victims to police officers.
Lady Stern said there should be a new approach to how victims are dealt with and cared for, regardless of how the criminal investigation was carried out.
'Abysmal' treatment
She called for a network of independent professional advisers to support a victim after he or she come forward.
The advisers' tasks would be to explain police procedures, provide a link between the victim and detectives, and support the victim in court.
Similar schemes have been piloted in some parts of England and Wales.
Lady Stern's review also backed the use of independent centres, known as Sarcs (Sexual Abuse Referral Centres), saying they needed to be in every police force in England and Wales by 2011.
Sarcs enable victims to receive counselling and other help, including medical examinations, without having to speak to the police.
Lady Stern hit out at the treatment victims of alleged rape received from police and prosecutors.
She said that while in some areas victims received the best possible support, in other areas they were treated abysmally.
She said support and care for victims should be given as high a priority as prosecution and conviction of perpetrators.
It was also "completely unacceptable" for police and prosecutors to lose interest in a victim whose complaint was not going to lead to a conviction.
Click here for the full story:
BBC News
Photo Credit: PA
Related links:
More about rape on AWR