Rape Survivor Lisa Marie Iyotte Introduces President Obama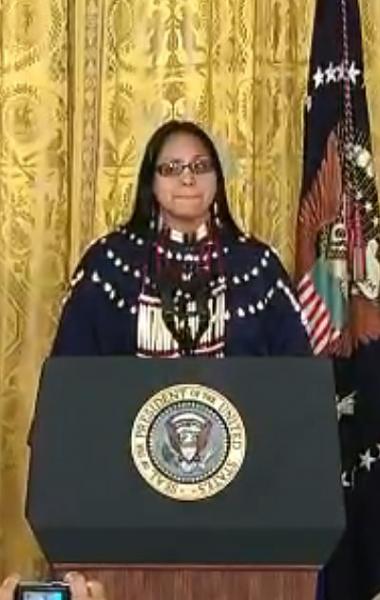 Susan notes: this introduction of US President Obama by Lisa Marie Iyotte is easily one of the bravest pieces of public speaking I have ever seen. It brought tears to my eyes. I was also impressed by the President's compassion and patience: he simply stood there with her, letting her be in the moment, fully experiencing her story as she told it.

US President Obama just signed the Tribal Law and Order Act -- an important step to help the Federal Government better address the unique public safety challenges that confront tribal communities.

According to a Department of Justice report, Native American women suffer from violent crime at a rate three and a half times greater than the national average. Astoundingly, one in three Native American women will be raped in their lifetimes.

At the White House Tribal Nations Conference in November 2009, President Obama stated that this shocking figure "is an assault on our national conscience that we can no longer ignore."

Last week, Congress took another important step to improve the lives of Native American women by passing the Tribal Law and Order Act of 2010. The Act includes a strong emphasis on decreasing violence against women in Native communities, and is one of many steps this Administration strongly supports to address the challenges faced by Native women.

The stipulations in the Act that will benefit Native women reflect several Administration priorities. The Act will strengthen tribal law enforcement and the ability to prosecute and fight crime more effectively. The Indian Health Care Improvement Act will require that a standardized set of practices be put in place for victims of sexual assault in health facilities. Now, more women will get the care they need, both for healing and to aid in the prosecution of their perpetrators.

Victims of domestic violence and sexual assault will now more often encounter authorities who have been trained to handle such cases. The Act expands training of tribal enforcement officers on the best ways to interview victims of domestic and sexual violence and the importance of collecting evidence to improve rates of conviction.

The Director of Indian Health Services will coordinate with the Department of Justice, Tribes, Tribal organizations and urban Indian organizations to develop standardized sexual assault policies and protocols.

Click here to read the full story:
By Lynn Rosenthal
The Whitehouse

Related links:
More About Native Americans on AWR